Want to catch viruses in your computer and running out of money? Then you may try Bitdefender free edition. It works like any other antivirus available in the market without letting you pay even a single penny for it. Moreover, this freeware uses the same ICSA certified scanning engines that are commonly found in any other BitDefender Product.
But remember, it's an on-demand virus protection, that means it will only scan your system when you ask it to do so or when it's scheduled to scan and this simply implies that if you always keeps yourself online (Whether it's because of your habit or profession!) then the BitDefender official website itself suggest to go for a more reliable antivirus. Hence it's not a resident guard.
Available for free, you may download it directly from Bitdefender's official website or just follow the following link http://www.bitdefender.com/solutions/free.html to get your choice.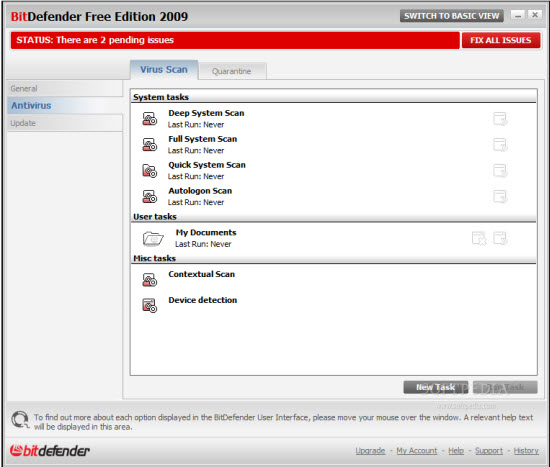 In general, this antivirus is meant for protecting your system from viruses, root kits, spywares, Trojans, worms and malwares. In addition to this, you may quarantine infected files and also may gift such files to BitDefender Lab professionals for further research. Like all other antiviruses, BitDefender Free Edition also gives you the choice of Quick System Scan, Deep System Scan, Rootkit Scan and Removable Drives Scan. Also, you may immediately scan any folder just by right clicking the file/folder and check it. The good thing is that it asks for updates automatically or you may update it manually anytime.
But it gets negative remarks for its habit to ask for removal of any previously installed antivirus. Also, many users often complain that it slows down the system like hell and also difficult to uninstall, though it has a nice user interface. But yes, still many like it as an effective freeware.