Are you tired of signing into your different social networking sites and your mail accounts every time to check for new feeds or mails?
Do you find it cumbersome to open your browser, signing in your social networking accounts, opening different tabs to look for any updates then here is a perfect solution to get rid all of this time taking process by installing MultiMi on your desktop. MultiMi is a new free Windows desktop app that allows you to combine all of your inboxes, social networking sites, chat applications, calendars, files and contacts in one place and thus keeping you updated just at a single click.
What MultiMi can do?
It aggregates email, Facebook, Twitter and more in one free app
It lets you drag and drop to share content across accounts
It checks all links with integrated AVG LinkScanner, thus protecting your each shared link.
Stay Connected: Once you install this app on your desktop is ask for connecting accounts in a categorized manner. Mails include Gmail, Yahoo, Hotmail and an option for your generic e-mail account. Social networks include facebook, twitter, LinkedIn. It alspo includes the chat softwares of google and facebook. Events include google calendar. Photos can be organized through flickr and picasa and moreover the YouTube is also included as a video service. So you need not to go anywhere else to get connected to the digital world.
Stay Organized: MultiMi Keeps track of meetings, parties, and special occasions. Its fully customizable settings let you organize MultiMi exactly the way you want and find what you need in a blink. The drag and drop feature enables you to share your photos and links in a single click.
Stay secure: MultiMi keeps you protected from the nefarious links by scanning and verifying all the links you receive with the of AVG scanner. Moreover it doesn't store or replicate any of your personal information.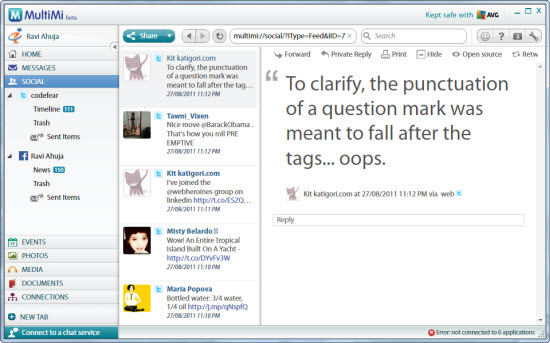 The interface plays a major role for every software; if it is not user friendly then you find it difficult in accessing it. MultiMi's interface is very easy to use and it combines half a dozen services in a single page which never happened before. The drag and drop feature also attracts your attention as you can upload your photos, videos and even your documents just by a mouse click.
But the main drawback of this app is that it is only windows supportable. The company has released its Beta version only till now and endeavoring for the full release of the app.
On the whole, MultiMi is a very useful tool which will attract the netizens and with MultiMi, you can manage your online life seamlessly.
Download MultiMi