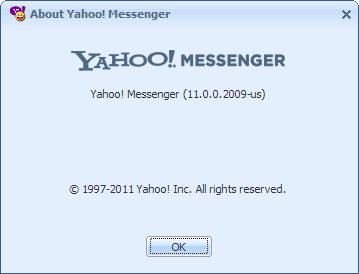 After being seven months in beta stage finally Yahoo! Messenger 11 is out of beta and available as stable release and you can download Yahoo Messenger 11 final.
The current release version is 11.0.0.2009 and the final release is come with many bug fixes and some new improvements have been added in final release. You can expect many things with new Yahoo Messenger like:
Invite your friend to play a game – In addition to instant messages, text messages, voice and video calls, you can now play popular social games such as Mafia Wars and Fishville right within Yahoo! Messenger.
Keep up with friends wherever they are – View, comment on and like updates from Yahoo! Pulse, Flickr, Facebook, Twitter, and more, all from right within Yahoo! Messenger.
Post one status to multiple social networks – Share your Messenger status simultaneously on Yahoo! Pulse, Facebook, and Twitter.
Chat with Facebook friends – In addition to your friends on Windows Live, you can now IM your Facebook friends. Continue your conversations on the go using Mobile Web Messenger, SMS Messenger or Yahoo! Messenger App for Android.
Always be available – Stay signed in to multiple PCs simultaneously so you never have to miss a message.
Easy access to recent conversations – Retrieve all your IM conversations from any PC where you have signed in to Yahoo! Messenger.
Personalize your experience with fresh new skins – Express yourself and show off your personality with one of the 7 newly added messenger skins.
Yahoo Messenger 11 is available as online installer from Yahoo messenger website but you can also get offline installer from direct download link listed below.