With the increasing number of online threats these days robust and deep protection of your computer system has become very important. The good anti virus software program not only checks your system from the malicious attacks but also provides you with the better performance of the desktop. PC Tools Antivirus program is popular and tested software which safeguards your computer from the harmful attacks and you can download it for FREE.
PC Tools AntiVirus Free Edition provides high end protection against viruses, worms and Trojans with rapid updates and IntelliGuard real-time virus scan and removal technology. The software enables basic antivirus and antispyware protection, with Smart updates to keep your PC safe and provides real-time protection.
The interface of the program is colorful and is similar to other tools, but with its own sleek layout and is easy to use. The new PC Tools AntiVirus includes some new features which makes the anti virus software more enhanced in terms of protection and scanning.
With the introduction of next generation sliding signatures the performance of the software has improved in terms of scan time and impact on the system has been further reduced during scanning.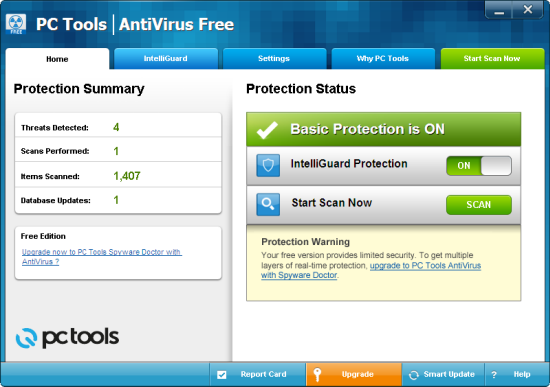 The new PC Tools AntiVirus also have advanced functionality for virus scan and removal of the boot sector viruses that infect Master Boot Record (MBR).
The major features of this Free Antivirus program include:
PC Tools protects against computer viruses and related malware threat with on-demand system scanning or real-time (IntelliGuard) detection of threats.
Ability to quarantine and restore items that have been detected: PC Tools AntiVirus program either removes the detected viruses and related malware from your system or quarantine them into a contained area which can be restored at a later time.
Logging of File Scans conducted by PC Tools AntiVirus: All File Scans conducted by PC Tools AntiVirus can be logged, providing a record of when each scan was conducted.
The feature of Email Guard protects your computer from viruses and spyware which are being sent over email.
Apart from all these features the software is very light weight but still protects your system from the malicious attacks. If you are looking for the Free Antivirus program then PC tools can be trusted as a good choice to opt for.