Free Window Registry Repair is a tool for solving up the problems of registries. Many times you must be facing the problem regarding the slowness of your computer system. More you use your PC, the slower it gets. The main cause of slowness is some bugs and errors which appear in the registry folder of your system. Removing those errors can finely increase up the speed and can make your work faster.
Free Window Registry Repair is a easy simple to use software which will regularly repair your registry of the system and will automatically store the backup of any repairs made so that you always can restore Windows registry to the original state.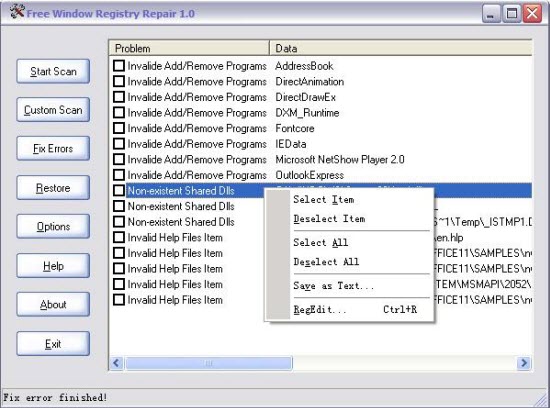 The interface of the software is really simple and easy to use with clear menu which makes this program suitable for most users. There is a step-by-step instruction which leads you to the cleaning of errors of the registry. You can perform a full scan or can select areas to examine and repair the errors. Scanning is quick with the proper implementation of the results list.
The key features of the FREE software are:
It repairs invalid registry entries which are the common cause of Windows crashes and error messages and increases the system speed and stability.
It creates backups of Windows Registry with the option to restore them.
The software is 100% Spyware FREE, NOT contain any Spyware, Adware or Viruses.
Free Window Registry is easy to use utility software which will speed up the performance of your PC by removing the errors in registry folder thus giving a new speed to your system.
You can download the software for FREE by clicking the below link