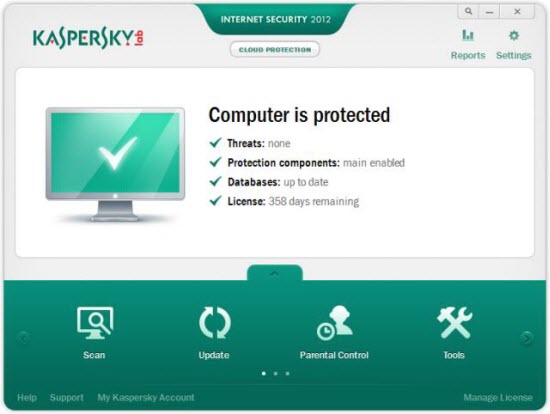 To protect our computer from computer viruses we use antivirus software. There are internet security software which covers lot of security issues like viruses, Trojans, spam, hackers etc and such software is Kaspersky Internet Security.
Kaspersky Internet Security is premium Internet security software which protects your computer from viruses, Trojans, spam, hackers; protect your Wi-Fi connections etc. The latest version is Kaspersky Internet Security 2012 which uses cloud-based technologies with advanced antivirus protection. Kaspersky Internet Security is one of the most popular premium security software because of fast speed and good protection.
Features of Kaspersky Internet Security 2012
Kaspersky URL Advisor: Marks web links with a color-coded tag that shows their danger level and allows you to choose whether to open them.
Kaspersky File Advisor: Checks file safety with a single click of the mouse.
System Watcher: Monitors suspicious application activities and allows you to roll back system changes made by malware.
Application Control: Restricts program access to personal data and system files according to the level of danger that each program presents.
Safe Run Mode: Lets you launch suspicious applications and websites in a special, isolated environment where they cannot harm your computer.
Two-way personal firewall: Protects against hacker attacks
Anti-Phishing and Anti-Spam technology: Provides reliable protection for your personal information and guards against unwanted spam and adware.
Parental Control: Provides flexible and effective settings to keep children extra-safe when they use computers and the Internet.
Completely redesigned interface: Makes navigating around security settings inside Kaspersky Internet Security 2012 quick and easy.
Kaspersky Internet Security 2012 cost $59.95 for 1 year subscription per PC. Kaspersky Internet Security 2012 supports Windows XP, Vista and Windows 7 both 32 and 64 bit versions. Before buying Kaspersky Internet Security 2012 you can download 1 month free trial.