Google Earth is amazing software which lets you see any place on Earth in 3d view or on satellite images. This can help you find place in your city, any other city or countries.
Google Earth for desktop let you see satellite imagery, maps, terrain, 3D buildings, galaxies in outer space, and the depths of the ocean. With street view you can view streets of many cities, explore 3D buildings and trees around the world, easily discover Historical Imagery and much more:
Explore rich geographical content
Search for business locations
See 3D buildings and add your own models
Visualize your GPS tracks and share with others
Dive beneath the surface of the ocean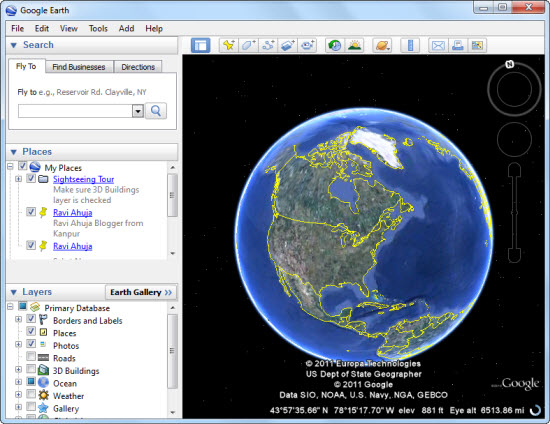 The best part of Google Earth is that it s very easy to use, you can search places in any particular city and it will take you to that place. You can add place marker to remember place you want to remember.
Google Earth is available for PC, Mac, and Linux platforms. You can download Google Earth with online installer but if you need offline installer then download it from link below. It will download latest Google Earth offline installer.
Download Google Earth Online Installer