Few week back we features Flash Player 10.3 beta release and now Flash Player 10.3 final is released and available for download.
Flash player 10.3 is cam with some new and improved features. Flash Player 10.3 delivers beautiful HD video, faster graphics rendering, and high performance on mobile devices and personal computers and is designed to take advantage of native device capabilities — enabling richer, more immersive user experiences.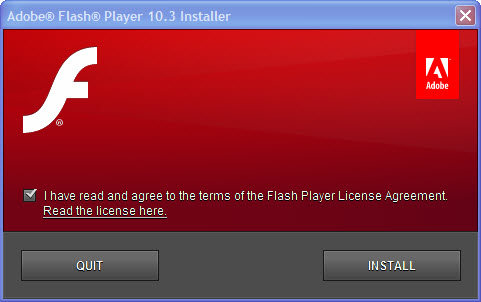 New Features in Flash Player 10.3
Media measurement (new in desktop only)
Acoustic echo cancellation (new in desktop only)
Simplified local storage management (new in desktop only)
Local settings manager (new in desktop only)
Auto-update notification for Mac OS (new in desktop only)
Hardware-accelerated video presentation (requires Android 3.1)
Deeper integration with the Android browser rendering engine (requires Android 3.0.1 or later)
Download Flash Player 10.3 offline installer.
Download Flash Player 10.3 offline installer (For Internet Explorer [IE])
Download Flash Player 10.3 offline installer (For other browser)
Flash Player 11 Released – Download Flash Player 11 Offline Installer