Apple the leading mobile seller worldwide released the iPhone 4S, an intermediate between iPhone 4 and iPhone 5. In its press conference at California on 4th October Apple announced iPhone 4S, the most amazing iPhone with incredible new features like Apple's dual-core A5 chip for blazing fast performance, 8MP camera with HD video recording and on the top iOS 5 as an operating system. Apple priced this new gadget at a price of $199 for the 16GB model and $299 for the 32GB model and $399 for the new 64GB model.
Apple iPhone 4S now runs on the all new iOS 5 operating system with over 200 new features like Notification Center, iMessage – a new messaging service that lets you easily send text messages, photos and videos between all iOS 5 users and others. It also provides iCloud accessibility which allows free cloud services that work with your iPhone, iPad, iPod touch, Mac or PC to automatically and wirelessly store your content in iCloud.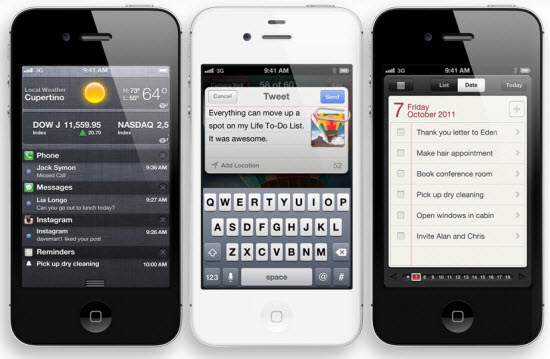 The phone has 3.5 inch vibrant screen with beautifully thin glass and stainless steel design and powers dual-core A5 chip which will deliver up to twice the processing power and up to seven times faster graphics than iPhone 4 and will give up to 8 hours of 3G talk time.
iPhone 4S includes an 8MP camera with autofocus, face detection and LED flash. The camera has a new custom lens, a larger f/2.4 aperture and an advanced hybrid IR filter that produce sharper, brighter and more accurate images. It can record HD videos (1080p) up to 30 frames per second with audio and has a front VGA camera for video talks.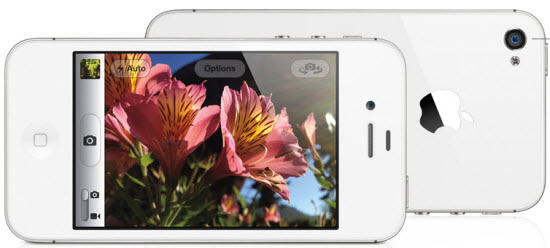 The Camera and Photos apps give you instant access to the camera right from the lock screen, and you can also use the volume-up button to quickly snap a photo.
iPhone 4S is capable of intelligently switching between two antennas to send and receive signals allowing both CDMA and GSM customers to roam internationally on GSM networks and now it supports twice the download speed with HSDPA of up to 14.4 Mbps.
Other features includes new Bluetooth 4.0 technology and 802.11b/g/n Wi-Fi for fast transfer of data and GPS and accelerometer facility offers aesy finding of locations.
Overall, with the launch of iPhone 4S apple has shown its credibility in the viewers to experience the best and let's see for iphone 5 has new in its store to amaze the billions of users of iPhone. The phone will be available in the US, Australia, Canada, France, Germany, Japan and the UK on Friday, October 14 and customers can pre-order their iPhone 4S beginning Friday, October 7.