Rovio introduces your favorite game Angry Birds in new Avatar, a new bird and named the game 'Angry Birds Space'. Rovio debut its first game in late 2009 since then the whole world is crazy about the game. Angry Bird have very big fan following Rovio never let the down the expectation of the fans they timely introduces their sequels like Angry Bird Seasons and Angry Bird Rio.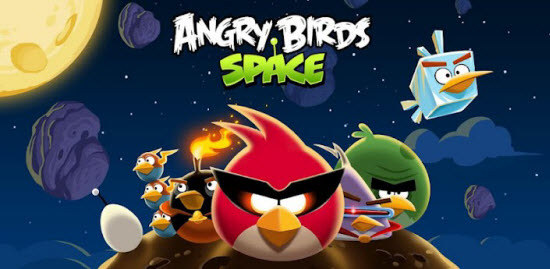 All the Earlier version of Angry Birds based upon Physics (Gravity of Earth) but this version has a whole new gameplay and a new experience while keeping the legacy of the game what you love the fight between the pig and the birds. Angry Birds Space game is based upon the gravity of the space (Space Physics no gravity) which makes the game more complicated and whenever you shoot any bird it will continue to move in straight line until it crashes with something. But it also has the planetoids which have their own gravity zone where you experience some gravity so game has some gravity manipulation which add fun to the game.
Not just the game has the new avatar the birds and the pigs have the new avatar too. They have also introduces the new bird, new superpowers, hidden bonus levels and the gravitational manipulations. Angry Bird Space have 60 interesting levels and Rovio also promises regular free update on the pipeline. The more content is also available through in-app purchase. Gameplay has optimized for all the platforms and it also supports the retina display of new iPad.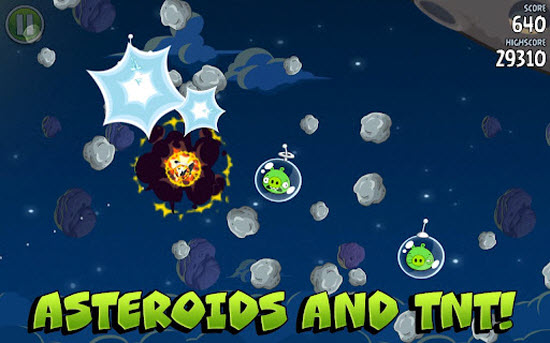 Angry Birds Space Pricing:
iPhone and iPod touch: $0.99 (Available in App Store)
iPad: $2.99 (Available in App Store)
MAC: $4.99 (Available in MAC App Store)
Android Phones: Free (Ad version) and $0.99 for (Ad free version) Available in Google Play Store
Android Tablets: $2.99 (Ad free verison) Available in Google Play Store
The merchandise, animation and books available in retail of Rovio at the same time as the game in others store.
http://shop.angrybirds.com/us/