Microsoft has officially announced their new versions of office suit named Microsoft office 2013 and cloud based office 365. These versions will particularly come with windows 8 tablets and PC. Microsoft is a leading company in the world, has announced only preview version no pricing is announced until the final versions are available in the market.
MS Office 2013 will be available in variety of version for business users and home based user and Office 365 will be subscription based cloud service comes in 3 different premiums like: home premium, small business premium and ProPlus all these premium have different features and specialty. Price on new MS Office 2013 is not yet announced. MS Office 2013 version will have wide range of application like Outlook, PowerPoint, Word, Excel and OneNote all these have advance and modernized so that these are run smoothly in touch screen like Smartphone and Tablet. These versions will particularly optimize for tablet use and Smartphone.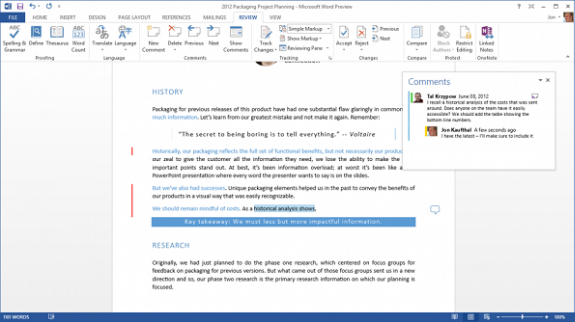 Microsoft Office has also launched MS Office RT version for ARM based Tablets include free for RT devices along with surface. After launching the full version of Office 2013 you can buy and install on maximum five PCs.
You can access MS Office 365 from your Web browser and can be run on iOS devices like iPad and iPhone thru there browser. There will no announcement of Office 2013 availability for Mac.
New version will available with enhance features like: thumb-controlled button, quick adjusted fonts, size and colors. MS Office 2013 is focused for touch screen devices and will give great work experience on these devices. MS Office 2013 will come with Skype integration which will help you collaborate on the go.
Microsoft will soon release MS Office 2013 final version which is expected to come with Windows 8 release. Meanwhile you can preview MS Office 2013 by using your Windows Live ID.