Let your PC run free of errors with this Advanced SystemCare program that protects, repairs, cleans, and optimize your PC. Many users have the problem regarding their PC's speed or performance as the time goes. Whether it's an old or even a new PC you might face some bugs and errors which slows down the performance or consumes the disk space. In order to remove and protect your system from bugs and errors there is a software called Advanced SystemCare which vanishes all problems that too Free of cost.
IObit, which focuses mainly on system utilities and security software, has developed this software which would clean your system from bugs and errors in just few clicks. It's an easy to use, 100% safe PC maintenance program with no adware, spyware, or viruses which cleans up your registry bugs in few seconds.
What makes Advanced SystemCare different from other?
There are many other registry cleaners like ccleaner, PC Decrapifier, etc. many of them are paid while few although are for free but the reason why Advanced SystemCare stands apart from the league and is different from others is its list of powerful features which combines not only the registry cleaning but also other protective and repairing functionalities. It can also detect the issues and remove the unnecessary files by scanning the system and moreover it is the most trusted system care software used worldwide.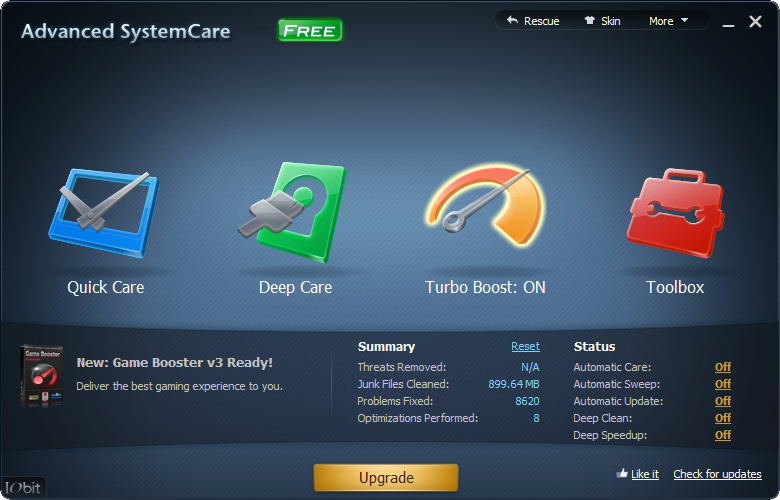 Main Features Of Advanced SystemCare 4:
Speeds up PC performance and internet access: After detecting the issues and fixing them it allows user to experience the new dimension of speed in the computer by tuning up Windows by releasing the built-in power of your system. IT can improve the system and Internet performance by up to 400%.
Protection against the harmful Resources: Besides cleaning up your system this software also scans and removes spyware and adware using up-to-date definition files and prevents spyware, hackers and hijackers from installing malicious programs on your computer.
20+ dedicated smart tools for everyday PC maintenance: Enhancing the version 3 to Advanced SystemCare 4 now the software contains IObit's latest Toolbox which has more than 20 dedicated smart tools for everyday PC maintenance which includes tools for system cleaning, optimizing and repairing, security enhancement, and tools for full control over the system.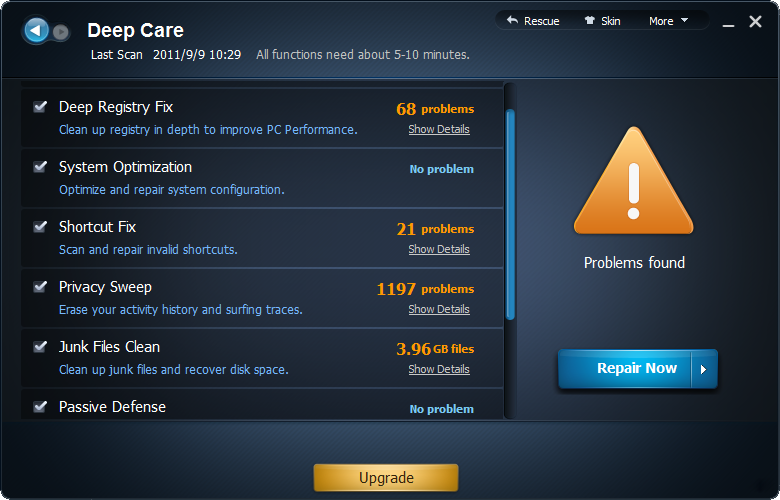 Extremely easy to use with new interface and fantastic Skins: The best part of any software is its easiness to use. A complex interface and working may resist users from operating it but with Advanced SystemCare you get your work completed in just a click and in a minute.
To avoid confusion the main interface of the software has four major functions "daily maintenance", "complete fix and tune up", "ultimate PC speedup", and "smart tools that may suit for your every need for system management" with 10 fantastic skins that make the use of the software more enjoyable.
Overall, the free Advanced SystemCare provides complete solution for improving the performance and speed of your system. But its turbo boost feature disables core system services like Windows Update and keyboard hot keys in an attempt to accelerate your computer's performance. But still it proves as the convenient and must have software for your system.