Opera a leading name in web browsing software announced at Up North Web it's new first time Alpha release of the Opera 12 named as 'Wahoo' which includes the new feature of Hardware Acceleration. The new version also introduces skins in the form of themes and contains the updated new HTML5 engine.
The new features included in the alpha stage of Opera 12 are:
Hardware Acceleration: It offers a wide range of benefits to Web browser like faster performance, lower battery consumption and its Vega display engine handles font display, CSS effects, Canvas 2D graphics, and WebGL 3D graphics. The hardware acceleration will improve the everyday browsing with enhance speed and better performance.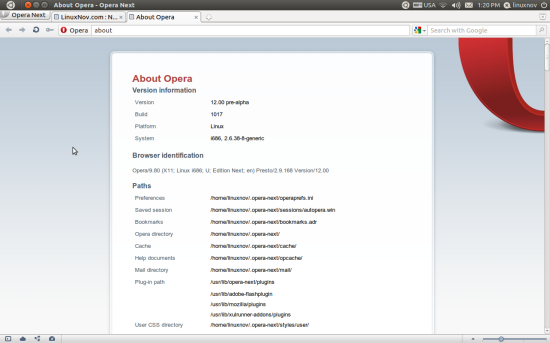 Themes: Opera 12 also contains some new pretty cool themes to show you how it works, but you can also make your own themes using any image you like.
Controlling Webcam: Opera 12 now follows the Device API approach which will allow you to snap a profile picture with web apps.
Speed Dial Feature: Now you can add Web pages to Opera's speed dial page directly from the address bar. Speed dial feature allows people click to on large icons for often-used pages.
Opera 12 will provide full support for EcmaScript 5.1, the standards-group project that underlies JavaScript and support for horizontal and vertical antialiasing when displaying fonts with Microsoft's DirectWrite interface.
The inclusion of Hardware acceleration and some other changes will definitely attract the new users while it will give a new experience for the existing users. The final form of
Opera 12 will be available later this year.
Download Opera 12 Alpha for Windows
Download Opera 12 Alpha for Mac
Download Opera 12 Alpha for Linux
Please Note: Opera 12 is not a final release it is in Alpha face there can be some problem in this release. Just use Opera 12 Alpha for testing.