About everyone knows about Skype, if you don't know about it then you must understand Skype and getting benefit of great Skype features.
Microsoft recently acquired Skype. Skype is great way to communicate over Internet by text, voice and video chat. Skype offer free and premium services which let you make free video chat or make international phone calls at very low price. With Skype you can make video calling, call to any phone, do instant messaging and much more.
Skype-to-Skype calls
If you and your friends are using Skype you can make free voice call anywhere in the world. Not just that you can make video calls too and for free. To make voice or video calling you and your friends must have Skype install on their computer and add contact details so you can chat, make voice call or video calls.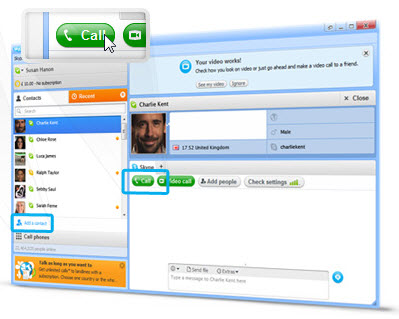 Call on Phones and Mobiles
With Skype you can call on mobiles or landlines, anywhere in the world which cost you just 1.9c per minute (2.2c incl. VAT) with Skype Credit or even cheaper with a subscription. Call rates can be different on country to country basis.
Online Number
With Skype you can get your own Online Number on which anyone can call you on from their mobile or landline. You answer them from Skype and it's no matter where you are in your country or any other country. Every online number includes voicemail which help to leave messages when you are not available. You can listen those messages when you are online on Skype.
Skype is available for almost every platform like Windows, Mac, Linux, Android, iPad, iPhone, Symbian, Skype on 3, Skype on your current TV and Skype ready TVs. With Skype you are not limited to PC calling, you have lot of other options to be with Skype all the time.
To get Skype you need to create a free account and download related software. With its easy setup and easy to use interface makes it best online calling service. Skype for computer comes as online installer if you need an offline installer then you can download it from direct download link listed below.
Download Skype for Computer
Download Skype for Mobile
Download Skype for TV