Samsung and Apple, the two biggest brands are the strong rivals in field of SmartPhones. Apple known for its exquisite iOS and superfine quality released iPhone 4S a successor of iPhone 4S last week. Apple is constantly endeavoring to challenge the Galaxy S II phone and this time iPhone 4S seems to give a tough competition to the Galaxy S II. Previously we had compared Samsung Galaxy S II with iPhone 4 and this time let's compare it with iPhone 4S to see whether this iPhone 4S surpasses Galaxy S II or still Samsung Galaxy S II wins the battle.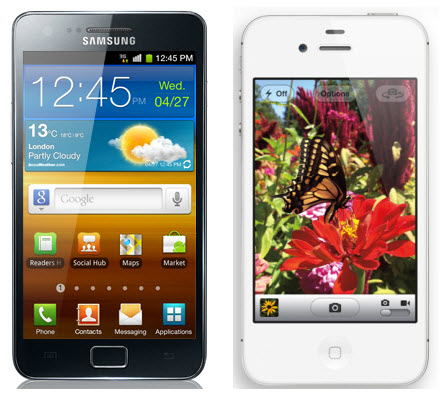 Display: Once again Apple sticking on the constant screen size introduced iPhone 4S with the same 3.5 inch TFT Retina multi-touch display, with 960×640 resolutions at 330 ppi pixel density while the Samsung Galaxy S II is having 4.3 inch SUPER AMOLED Plus wide display with 800×480 screen resolution making everything more vivid and with enhanced readability.
Weight and Width: Samsung again beats iPhone 4S in terms of weight as well as in width. Samsung Galaxy S II weighs 117-gram still 23 grams lighter than iPhone 4S. Moreover iPhone 4S again to able to beat the slimness of Galaxy S II which measures 8.9mm, while the 4S measures 9.3mm.
Operating System: The Samsung Galaxy S II still comes with Android Platform 2.3 gingerbread while the iPhone 4S installs the newest iOS 5 operating system including over 200 new features to the iPhone.
Processor: While the Samsung Galaxy S2 is powered by a dual-core 1.2GHz ARM Cortex-A9 processor, Mali-400MP GPU and Exynos chipset, the iPhone 4S still runs on 1GHz dual-core ARM Cortex-A9 processor, PowerVR SGX543MP2 GPU and an Apple A5 chipset.
Camera: The new iPhone 4S sports a 8 MP rear camera with new state-of-the-art hybrid infrared filter and the Samsung Galaxy S II also has 8MP rear camera. But again in terms of front camera iPhone lacks by sporting VGA front camera where as Galaxy S II has 2MP front camera.
Storage: The Galaxy S II boasts 16GB of internal storage, which can be expanded up to 32GB via a microSD card and has 1GB RAM while iPhone 4S comes in 16GB, 32GB and 64GB models without any external MicroSD card slot.
Download Speed: With High-Speed Download Packet Access (HSDPA) technology, the iPhone 4S now haves data download speed 14.4Mbps which is twice if compared with 7.2Mbps speed of iPhone 4 and it supports 5.8Mbps of upload speed. While Samsung Galaxy S2 is an HSPA+ ready phone with 21Mbps download speed and 5.76Mbps upload.
Global roaming: The iPhone 4S has both CDMA and GSM chips, negating the need for global users to use another phone outside the country while Samsung Galaxy S II supports only GSM network.
On comparing the phones with respect to above feature Samsung Galaxy S II seems to still out pass the iPhone 4S even it's the latest release of Apple.