Once upon a time, web access through a TV was a slow and cumbersome process. Modern advancements make it easy to use your smart TV. Daily tasks are speedier when you aren't near the computer.
As consumer demand grows for Internet connectivity throughout the home, the humble television has been updated as a web device. This happened in the 1990s with services like WebTV, but slow loading processes and highly limited display of websites made the idea unpopular. However, today's high speed connections and high definition displays make it easy to properly render websites on the television set.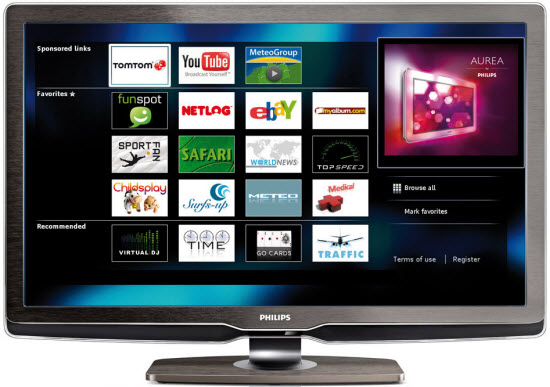 Try these eight ways to boost your productivity by utilizing your smart TV.
1. Cooking from a Recipe
Load up your favorite recipe on the big screen and then quickly check each step from the countertop, so you don't have to bring your computer into the kitchen and risk a flour covered keyboard or spills that wreck the device.
2. Your To-do List
If you work at home, displaying your day work on the TV could keep you from switching to your favorite daytime shows. Check off each item as you complete it and then close the list when it's time to relax.
3. Email Notifications
Keep an eye on your work or personal email account as you clean up around the house. Nearly all of the smart TVs currently on the market have native support for the biggest email providers.
4. Find the Answer
TV Internet browsers make it a snap to look up information about an actor or producer as you're watching a show.
5. Watch How-to's
Load up a video or photo tutorial from the Internet so you can assemble that bike or gingerbread house the right way the first time. Use the spaciousness of your living room and see all the details on your TV rather than working on your bed or desk to be near your PC.
6. Shopping is Fun Again
When you see something you like on a celebrity or in a home design show, don't wait to order it, or you risk forgetting the brand-name name. Order it immediately with access to retailers like Amazon and eBay.
7. Make it a Photo Frame
Your bridal shower or birthday party will be a massive hit when you decorate by displaying a revolving slide show of relevant photos on your large screen TV.
8. Access Your Entire Library
Play your favorite songs or watch movies stored on your PC by picking a model that connects to your home network. Best Buy says that support for this feature is expanding among new releases at an accelerated rate.
You may have invested in a smart TV just for social networking, but these devices can easily boost your productivity. Utilize them correctly to cut down on wasted time and remember that Internet and television service are now bundled together with Direct TV through www.sattvdirect.net.
AUTHOR BIO: Sara is an expert on both productivity and devices that can help you get more done. She advises investing and is mindful that Internet and television service are now bundled together with Direct TV.