There are numerous occasions when you want to greet and remember your loved ones. It may be through a message, a greeting card or it can even be a post card for that matter. Now with Touchnote PostCards App you can give a whole new and wonderfully beautiful dimension to your emotions. With Touchnote PostCards App sharing your emotions has become easy and truly amazing.
Touchnote enables you to send your photos in the form of real, printed and of course beautiful postcards and that too with just a few clicks directly from your mobile handset. You can create photo postcards from Touchnote and then it can be used to post the real printed copy to be delivered anywhere on the globe.
Touchnote is a free mobile app for Android and iOS devices that can create and deliver a postcard to anybody in the world. The postcard would be a real printed one with a stamp as well. Let's have a look at its features, workings and other capabilities.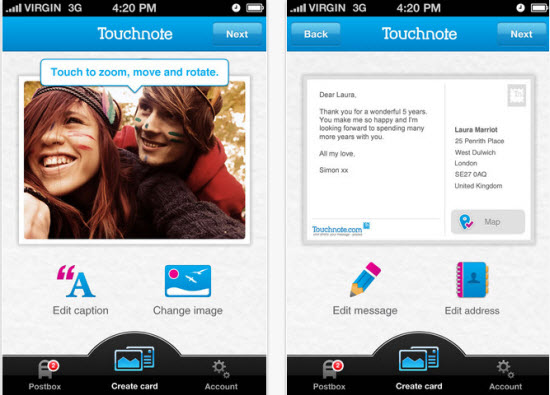 Touchnote interface is really easy and simple to use. You can import your photos into the ready-made template provided by the Touchnote app and using its remote services can then mail it to any place throughout the world. All this can be done with a few clicks thus making the whole process really simple and interesting too.
Firstly you import the photo from your mobile library, Facebook or from its camera. It can be of any type as long as it is of minimum 450 x 450 pixels. You can then select an image style, add text to your image, choose fonts for your text and can even draw to complete your postcard. You are then required to fill in some details such as a message, add your signature to it and can send it to the address of your choice. This would then complete the Touchnote postcard creation and sending process.
The printed cards are of super quality. Touchnote uses waterproof, thick and polished paper for printing the post cards. They are printed at 300dpi so the resulting print outs are clear and are of sharp quality. Each card sent costs a mere £1.49, $1.49 or 1.49 euros and you pay through pre-pay credits. Moreover you can even create a postcard offline and send whenever you feel like.
All-in-all Touchnote PostCards App for Android and iOS Users is really an impressive and simple mobile application for wishing your dear ones through real, beautiful and printed postcards.
Get Touchnote PostCards for Android
Get Touchnote PostCards for iOS (iPhone, iPod Touch)