For the real gamers who want to experience a stereoscopic 3D gaming Toshiba Qosmio X775-3DV78 is 3D-ready laptop. Just put on the active-shutter 3D glasses included with it and get set to be spoiled forever. Its 17.3 inch wide screen and Nvidia's most powerful graphics chips make the gaming out of the real world. But to enjoy all the true 3D experience you have to spend $1,899.99.
Looking at the design of the Qosmio, it surely gives you the feel of Gaming Persona but the texture over its gunmetal-gray top and patch of red paint at the back of the laptop and logo makes it quite unattractive. Dimensioning 16.3 x 10.8 x 1.4-inches and weighing 7.5-pound laptop makes its rather bulky.
The wide 17.3 inches TFT LED Backlit Display having 1920×1080 resolution makes its perfect for playing 3D games and its LED Backlit Keyboard makes it operable even in the darkness.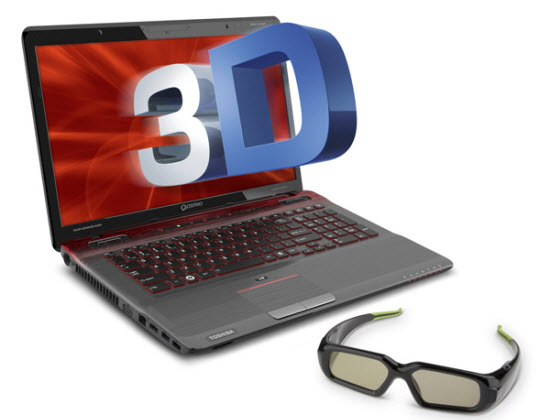 This X775 laptop runs on the Intel Core i7-2630QM a quad-core CPU processor with a speed of 2GHz. It has a NVIDIA GeForce GTX 560M (3D vision) graphic card making it perfect for 3D gaming. It comes with windows 7 Home premium edition. Laptop's 8GB RAM and 1.25 Terabyte hard disk: 500GB (7200rpm, Hybrid 4GB Serial ATA) + 750GB (5400rpm, Serial ATA) makes it more powerful than other general laptops.
Audio: Its Dolby Advanced Audio system delivers a more natural sound experience and upgrades its harman kardon stereo speakers to add dimensions to your music and gaming giving you the full 3D experience. There is an S/P DIF Digital Audio Port to connect to the home theatre and its sleep and music feature also enable you to listen music of your MP3 player via laptop speakers even in sleep mode.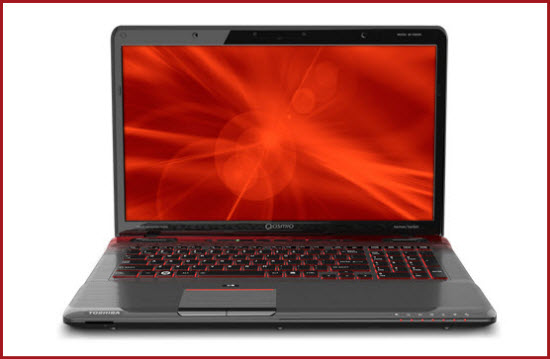 The USB 3.0 port gives you up to 5Gbps interface transfer rate and the HDMI port allows you to directly connect to the HD television.
Other features include Wi-Fi Wireless networking (802.11b/g/n) and Bluetooth V3.0 + HS and memory card reader.
The main drawback connected with this laptop is its low powered battery which gives a battery backup of only up to 1.5 hrs not enough to make it a perfect laptop.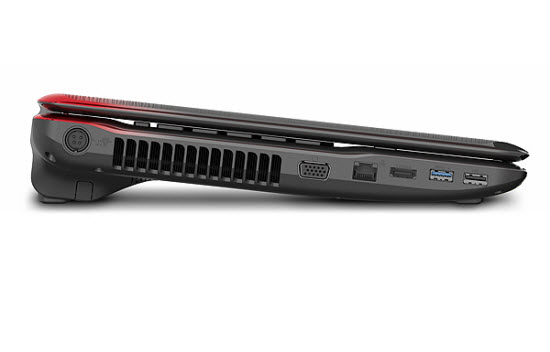 Overall, Toshiba Qosmio X775-3DV78 is a true gaming laptop with 3D experience but if the battery and cost can be compromised then it will be a perfect choice to buy for.