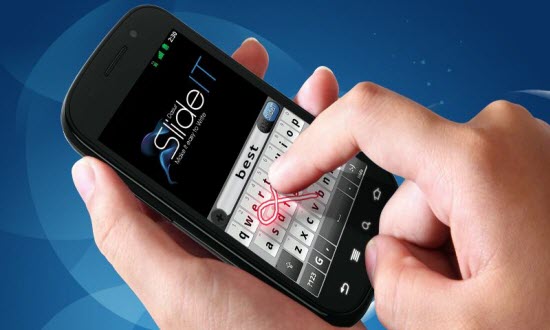 SlideIT Keyboard suggest you a brand new way to"type" (Oops, sorry! It's not about just "typing", but it's something more) on your Android phone (and you can play well with it on your Symbian and windows mobile also)! It's a revolutionary way to quickly and accurately input the text on virtual keyboard.
Those who used touch screen keyboards know it well how tedious and difficult it to type on a virtual keyboard. Thanks to Android, that supports apps to make it easier and SlideIT Keyboard is one those (That doesn't mean that this wonderful app is limited to Andro owners only. You can use it with Symbian and Windows Mobile also). SlideIT Keyboard is crafted to solve this problem and offers a faster, convenient and more accurate solution than striking every letter on a virtual keyboard.
With the rapid development of Andriod based smart phones, the market related to the applications and software that runs on android platform, is increasing exponentially.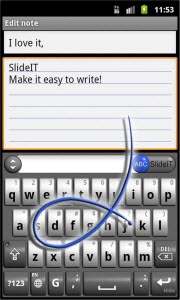 Those days are gone now, when the software was designed to meet your preliminary and professional needs only. Now-a-days, applications are crafted to make the things easier and much more comfortable.
With SlideIT Keyboard, you are no more supposed to tap every key of virtual keyboard to get your character get printed. It provides you a much simpler and smarter way to enter you text and that too, quickly! All you need is to just Slide along the letters with your finger, and Bingo! The words start coming on the screen like some Magic! Hence your speed increases dramatically. To add to the flavor, The SlideIT Keyboard supports many language dictionaries. So it also doesn't matter whether you write in English, Spanish, Arabic or even Icelandic, you can still use SlideIT to enter your text.
Also, you need not bother if your desired word does not get printed. It has a Manual learning library where you can always add your words to the dictionary. So next time, just select the desired word from the dictionary, if it's not getting printed buddy!
Interesting thing to note is that you can download more than 45 add-ons such as language packs, layouts and skins for SlideIT.
The Free Trial version is available for free, but you have to pay $5.99 in case you want a permanent copy. Moreover, Periodic nagging reminder in the free trial version will compel you to buy the full version of SlideIT.
Download SlideIT Keyboard
SlideIT Keyboard for Android
SlideIT Keyboardfor Symbian OS
SlideIT Keyboard for Windows Mobile