Digital technology is getting advanced day by day and competition over the virtual web is also getting tougher. But if you talk about the availability of resources, you will find the drastic improvement in it. Making the life and its complexity simpler and easier there are many new resources present which help you to manage all your digital content in a more organized manner without the fear of losing it on your System.
Sharing everything with friends and family over the globe has somewhat become the obsession or necessity among the people and with the increasing data to share and lack of space on the PC, many online web services have started which stores your data online and allow you to simply share it among your friends. Posterous Spaces is one such and one of the top online space provider which makes your media share quite simpler and easier.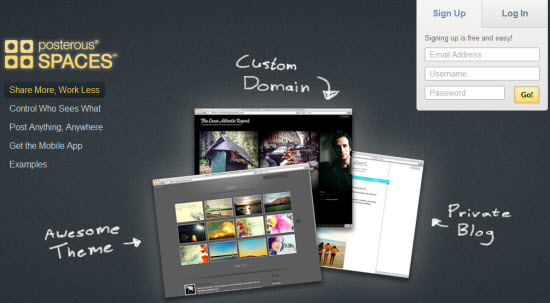 About Posterous Space
Posterous Spaces is a basically an amazing looking online groups app where you share photos, video, thoughts and more. Unlike social media's complex sharing policies Posterous space allow simplest of sharing of images and videos among your friends and families.
It's an online destination for smarter sharing of your content. Whether you want to share images or videos privately with your family or post a family or friend vacation photo gallery from their iPhone to their friends on Facebook and Twitter, or write a long from post via email you can do its simply using the Posterous Space.
Features of Posterous Space which makes the app really simple and effective are:
Easy and smarter usage: The Documents get embedded and the photos are put in a beautiful gallery with automated audio files appearing in the audio player makes the presentation really eye catching. You can use the Posterous web editor, mobile apps, or even e-mail to update your Space.
Moreover you can easily create a space on the web, both as public and private space and can add the friends either as followers or contributors. Followers will receive the updates of your latest posts via email while the contributors can post to your Space.
Customize the Outlook with Themes: You can choose from dozens of cool, professionally-designed themes which will customize your Posterous Space and if you are a little expert in graphics then you can customize the theme according to your way.
Easy Sharing: The Posterous app allows you to share the content with other social networks and services with just a click of the button to as to make your popular among the other social hubs also. You can set the auto post feature which automatically shares your content over the other social networks which you select.
Absolutely Free: The app is absolutely FREE for usage without any hidden fees for storage or bandwidth and no forced advertisements will play on your Posterous Spaces.
Wrap Up: Posterous Space is definitely a cool idea with a different thought. To help you understand the interface there are also introductory videos set up by the developers.
Although many of us already have accounts in many of the other online groups but experiencing this can be quite a exiting deal.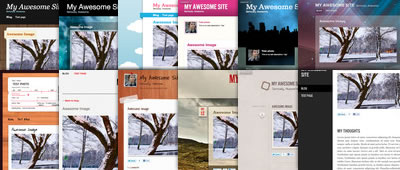 Moreover the app is also allows enhanced password protection to further increase the layer of security and the company has also launched the iPhone and Android apps with the same functionality of the web app.