Some time we delete important files accidently or because of disk formatted. There is no direct way to recover deleted file from Windows itself. You have to use third party software to recover deleted files.
Our important files can be deleted by mistakes, viruses, trojans, spywares, or because of other software running on your PC. If you have not taken backup of your important files then it can be very painful because you may lost your work, you have to spend lot of time to recreate that data and many more problems you have to face.
Data recovering is the best option to solve your problem. There are many software available in market which can recover your lost data from your hard drive. For average computer user it is very difficult to recover deleted files even after using third party software. They have to spend lot of money to take professional service to recover lost data.
Power Undelete Wizard is a software designed for recovering deleted files from NTFS or FAT32 volumes. This software can even recover files from formatted or reformatted disk. Power Undelete Wizard scan disk and find lost files restore them back.
As name suggest Power Undelete Wizard is easy way of recovering deleted files. Its three steps wizard helps you to recover files easily and fast. An average computer user can also easily recover deleted files from its computer.
To recover deleted file you have to install Power Undelete Wizard on your PC and follow 3 simple steps.
Power Undelete Wizard Three simple steps are:
1. Scan your PC for Deleted files
2. Select Disk from which you have to recover data.
3. Select files and folders you want to undelete.
That's it you have undeleted your files and you can use them again. It's very simple to recover deleted files.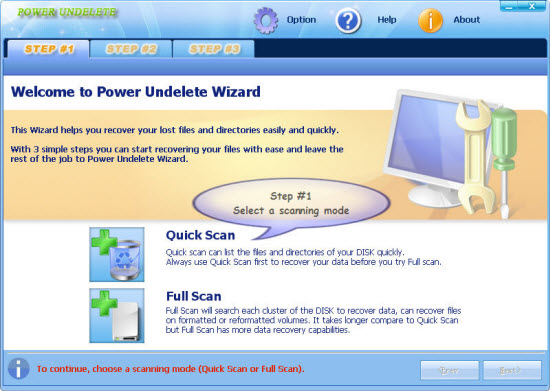 Features of Power Undelete Wizard

Support NTFS and FAT32 volumes.
Support removable devices.
Support external ZIP drives and USB hard drives.
Support Windows 7, 2000, XP, NT, 2003, Vista.
Recover files deleted from the Recycle Bin.
Recover files from deleted, damaged, formatted or reformatted partitions.
Recover office document, photo, image, video, music, database, etc.
Easy-to-use interface. No special skill required.
Power Undelete Wizard comes in two version Power Undelete Wizard(Lifetime License) which allows the Unlimited Usage within youself and Free Lifetime Upgrade. Power Undelete Wizard(Unlimited License) gives you Unlimited Usage within one company and Free Lifetime Upgrade.
Power Undelete Wizard Single License cost $69.99
Power Undelete Wizard Unlimited License cost $299.99
TechHew.com visitors can get special 25 % Discount on Power Undelete Wizard using coupon code and buy link listed below:
Coupon Code: 1E5D00B5A5
Buy Power Undelete Wizard Single License with this link
Buy Power Undelete Wizard Unlimited License with this link