Hotspot Shield, a new way to protect yourself online and hide your presence to the snoopers, hackers, ISP's, from viewing your web browsing activities, instant messages, downloads and credit card information. It is a freeware program that you can use to encrypt your data and make yourself more difficult to trace on the Internet.
The basic idea is to protect your identity by using encrypted data transfers and by re-routing Web traffic. It's a must-have utility for anybody who uses public Wi-Fi networks and also be a useful tool for ensuring on any network connection i.e. you can access blocked services like Facebook, YouTube, Twitter, Skype in countries where internet is censored.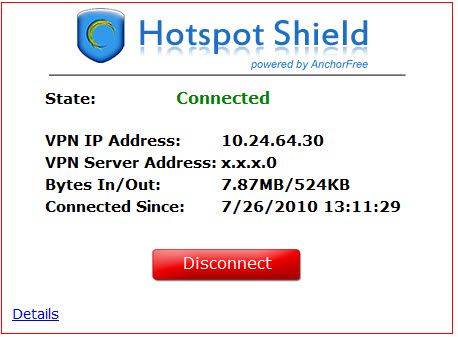 The main features which HotSpot Shield provides are:
Securing the web session, data, online shopping, and personal information online with HTTPS encryption
Protecting you from identity theft online
Hiding your IP address for your privacy online
Allowing access to all content privately without censorship by bypassing firewalls
And all above protecting you from snoopers at Wi-Fi hotspots, hotels, airports, corporate offices
Hotspot Shield creates a virtual private network (VPN) between your laptop or iPhone and our Internet gateway but the performance of the Hotspot Shield is still not up to the mark because of the interrupted network
However, this freeware also showcases advertisements supported aka Adware but Hotspot Shield also offers an Elite service, which runs ad-free. Elite costs $0.50 per 24 hour session, with a minimum $10 deposit, or $5 per month, or $45 per year.
Overall, Hotspot Shield is a good application of security encryption for your Internet usage. As it is freely available and performs all basic tasks the software is worth installation.