Everyone needs privacy, whether it's in personal life or in the personal phone. Everyone has something personal. Focusing on your phone's privacy, if you have personal photos, videos, SMSs or even certain apps which are sensitive in your Android phone and you want nobody except you to reach there then there are some applications present for Android phones to alleviate your concern. There are apps like Perfect App Protector- free and gallery Lock Lite available in android market which provides you password protection facility.
Both Perfect App Protector and gallery Lock Lite are free apps; you just need to install them in your phone to secure the privacy. Details and features of both these apps are given below to make you understand about the benefits of these apps.
1. Gallery Lock Lite
This security app locks individual photo & video with password. After locking no one can see media from the different view. The app supports English, Japanese and Korean languages. It also gives you flexibility to manage photos by folder. Moreover, you can hide launch icon and run application via dialing and it also easily link to existing gallery application giving pincode, pattern password support.
The latest addition to 1.6.5 version also gives you the functionality of picture Rotate along with slideshows. But there is also a limitation in number of hidden files in the lite version.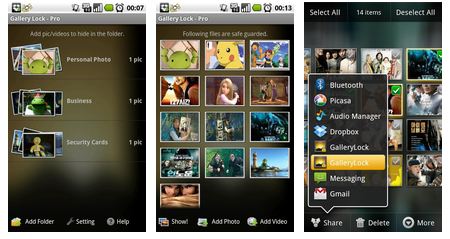 2. Perfect App Protector – Free
Perfect AppLock is the Google market TOP 20 application. This application lets you protect any applications you want with a passcode whether its SMS, Email, Pictures, Camera, USB Connect, Calendar, Messenger or any apps you choose. Rather protecting your media content this app locks the whole application. Now feel safe with your personal messages and from the unwanted use of applications.
Currently version 4.0 is available with additive feature like Screen Filter: for adjust brightness and rotation Lock.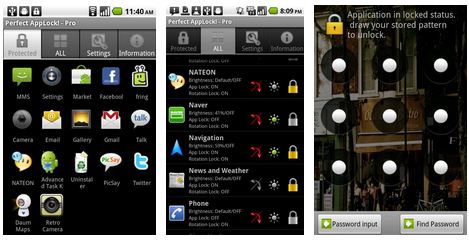 Thus both these apps may be useful for your phone and their feature will surely fulfill your needs.