Now only few days left in 2012 Olympics and if you have not getting time to catch the action of Olympics game then official London Olympics 2012 app is for which will keep you updated with results, news and medal table.
The Official London 2012 Olympics Results App is free app for iPhone, Android, Blackberry and Windows based phone which provides all latest news, schedule, events and results to user for keep update with latest LIVE action across all Olympic sports between 25 July 2012 to 12 August 2012 and Paralympics sports 29 August 2012 to 9 September 2012.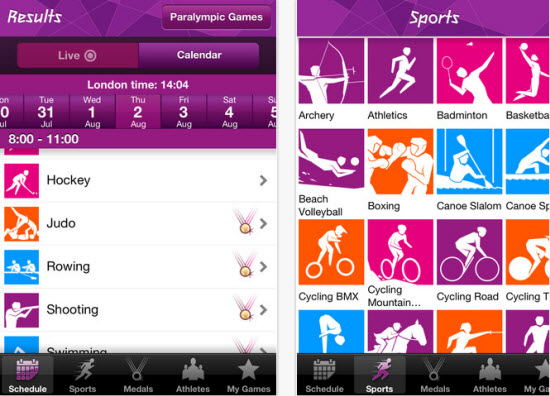 Official London 2012 Olympics Results App is exciting app for all sports lovers and they can get all latest LIVE events going on in London Olympic 2012. This mobile app has many exciting feature such as it provides all events results for 36 sports of Olympic and 21 sports of Paralympics, you can view all latest Olympic events, photos, social commentary from the game in real time and share with your friends.
Official London 2012 Results App provides a calendar schedule where you can view exact time of events accrue on which day and you can set reminder for specific events, you can see all Olympic Medals count as awarded during the game, and you can also see all the participating Athletes details and current Olympic Standings.
This app allows to user to visit each sport's detail separately and set up notification to keep alert for that game in Olympic events. Official London 2012 Results App is available in English language only but this is useful for all sports lovers, you will also get some video clips for special highlights. Official London 2012 Results App has some minor drawbacks such as some options are hidden and no live audio and video.
Overall this is the best app which provides all results and information about Olympic London 2012. This App will become very popular due these amazing features. This app is now available for free Downloads on its official Websites and enjoy all events of Olympic 2012 and share images of Olympic sports with your friends.
So go and get this wonderful app on your iPhone and Android based phone and be updated with Olympic 2012 news and results.
Get London 2012 Results App for Android