Nokia with his Windows 8 phone Nokia Lumia 920 of high budget has also announced a mid ranged smartphone and that too with Windows 8, Nokia Lumia 820. Nokia Lumia 820 is same as Nokia Lumia 920 but has just some less features.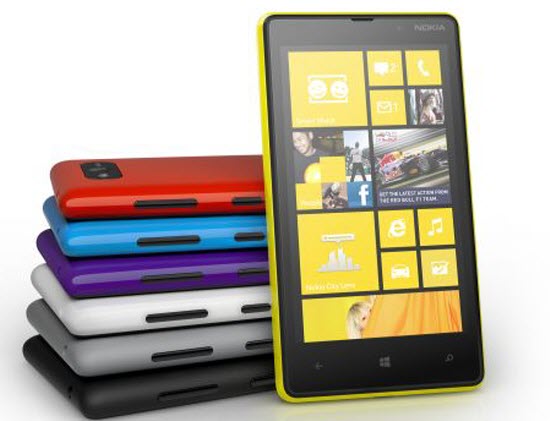 Nokia Lumia 820 has a screen of 4.3 inches with a resolution of 800*480 pixels and AMOLED screen. It has 16.7 millions display colors. Lumia 820 is available with 7 different polycarbonate shell covers of red, grey, cyan, purple, yellow, black and white. You need to buy the wireless charger if you need it with this phone. All you need to put these polycarbonate shells to your smartphone and place it on charging pillow or plate and charge your phone without wires.
Nokia Lumia 820 has a Snapdragon S4 1.5 GHz dual core processor with 1 GB RAM. You have internal memory of 8 GB which is expandable upto 32 GB using a Micro SD card and extra storage of 7 GB in a SkyDrive. Lumia 820 has a battery of 1650 mAh with a maximum 3G standby of 330hours.
Rear camera of 8 Mega Pixels with dual LED flash and Carl Zeiss Tessar Lens and a camera resolution of 3264*2448 pixels with auto focus two stage capture key. It also has a front VGA camera with resolution of 640*480 pixels. In terms of connectivity it has Bluetooth, Wi-Fi, Micro USB 2.0 and both micro USB data and charging connector.
Nokia Lumia 820 in overall is a great smart phone but with only feature lacking from Nokia Lumia 920. In camera Lumia 920 has pure view but Lumia 820 does not have, Lumia 920 comes with 32 GB whereas Lumia 820 comes with 8 GB, Lumia 920 has 1.2 Mega pixels camera at its front whereas Lumia 820 has VGA camera at its front, Lumia 920 has 2000 mAh battery whereas Lumia 820 has 1600 mAh battery, wireless charger available with Lumia 920 whereas you have to purchase wireless charger with Lumia 820 these are some limitations of Nokia Lumia 820 in comparison to Nokia Lumia 920.