Of late Mozilla has moved to a rapid release development cycle for its well known and popular open source web browser, Firefox and has now come up with its latest version Firefox 12. Mozilla's launch of Firefox 12 brings a big improvement in the browser's update system on Windows along with some upgrades in its features and fixes under the hood.
Mozilla had been working to improve the browser update process to make it more seamless. Earlier versions of Firefox required frequent updates whereas in Firefox 12 the whole update process has been moved to the background which does not require user intervention. So Firefox 12 gives its users a more silent update system.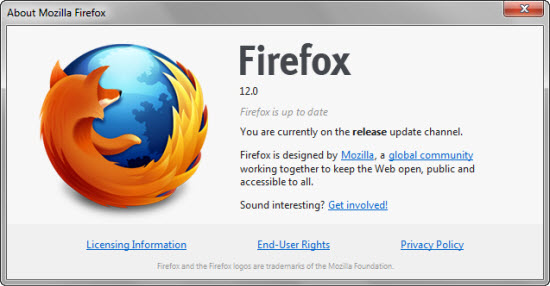 This required Mozilla to introduce changes such that it is able to avoid the intrusive User Access Control (UAC) prompt. The UAC prompt was shown during the update process as more privileges were required to update the Firefox program files on the file system. Here user intervention creeps in rendering the update process troublesome and slow. Now with Firefox 12, Mozilla has removed this UAC dialog.
Mozilla commented on its improved seamless update process saying, "Firefox simplifies the update process for Windows users by removing the user account control dialog (UAC) pop-up while maintaining the security of your system. Once a user gives explicit permission to Firefox on their first installation, they will not be prompted again for subsequent releases."
Along with the introduction of seamless update process, Mozilla's Firefox 12 has made several other changes as well. Firefox 12 has more than 85 improvements to its credit and a suite of built-in developer tools as well. As an example, now the developers do not require to reload a page in order to see messages in the Web Console. Some of the other changes include performance fixes WebGL on Mac OS X, support for doing a download through pasting a URL in the download manager window and other changes as well.
New users can download Firefox 12 from Mozilla's website that is www.mozilla.org whereas those who are already using Firefox will automatically updated to Firefox 12 through the browser's update service.
Download Firefox 12 for Windows