Motorola stunned everybody with its new Moto Droid Razr and reminded that it's also in the race of Smartphones after releasing Motorola Droid Razr with Verizon. With the revival of Razr, the company has marked its presence in the segment of high end Android phones. The phone will be available in November for the common user and it's been claimed by the company that Droid Razr will be the slimmest phone in the world.
The new Droid Razr boasts a 4.3 inch AMOLED Advanced display screen with Gorilla glass coating making it robust and its sculpted glass, the Kevlar backing, and the stainless steel chassis makes it a solid phone with elite style. Assuring it as the slimmest phone it measures just 7.1mm (0.28 inch) in its thickness and weighs 127gms.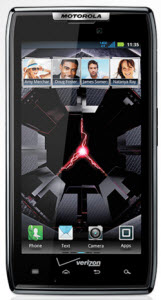 Motorola Droid Razr powers 1.2GHz Dual core TI processor with 1 GB RAM and runs on Android 2.3.5 Gingerbread operating system making it as a high performance phone. It possesses a qHD resolution thus making images and graphics both colorful and vivid and it will the first smartphone to be able to stream HD content from Netfix.
Joining the list of high end specifications Motorola Droid Razr sports an 8 megapixel rear camera capable of 1080p HD video and has image stabilization technology for less

blurry video and also has front-facing HD camera for video conferencing. The phone comes with a 16GB of onboard storage with the option of adding 16GB more storage via the microSD card and has 1,800mAh battery.
The phone is smart enough to manage your phone's battery life with its Smart Action Apps by shutting off Bluetooth when you return home or slow down the processor speed while you're on the phone, it also kills the unwanted tasks from your to-do list thus allow you to make best use of battery.
Motorola Droid Razr also remembers of your phone's security and with remote wipe and PIN lock features which are Government-grade encryption, protects your email, contacts and calendars.
The other features include the HDMI output, low-powered Bluetooth 4.0, Quickoffice and others. It also features the free MotoCast app which lets you stream your music, pictures and documents from your home or work computers to your phone.
The phone will be available in the November for common use at a price of $299.99 with two years contract with Verizon wireless and with all such great features and functionalities it will surely catch the attention in the masses.