Want to give a creative touch to your memorable family, wedding, vacation or any other albums of your choice? Or want to have a unique piece of slideshow combining your photos and music with different types of styles and effects? Then there is a fantastic opportunity for you to realize your dream of having beautiful and creative Video Slideshow.
Wondershare has brought a never before offer on its DVD Slideshow Builder Standard for the coming Mother's Day. Now you can get yourself Wondershare DVD Slideshow Builder absolutely free. This offer is running on the official website of Wondershare and can be availed only till Mother's Day. So hurry and get yourself the DVD Slideshow Builder from Wondershare and have a wonderful chance to gift a masterpiece Video Slideshow to your dear mother.
Wondershare DVD Slideshow Builder Standard is packed with whole lot of powerful features with which you can create really nice and pleasant slideshows. It provides you with an easy and yet smart way to convert your photos to DVD or you can share them online too. You just need to import your photos and music and Wondershare DVD Slideshow Builder will add cinematic effects, soundtrack with other effects to produce a fantastic photo slideshow.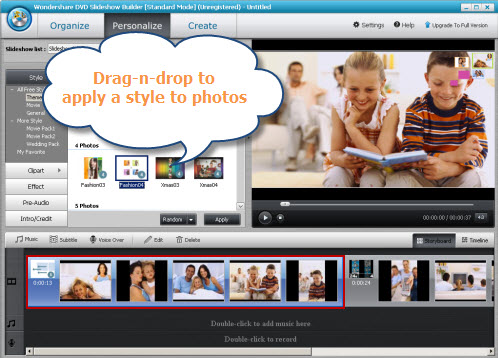 DVD Slideshow Builder Standard gives an access to lots of free movie styles and static as well as dynamic Menu styles. Its built-in editor lets you add filters like negative and black and white. You can even adjust the brightness and contrast of the photos added by you. You can give transition effects and can drag-and-drop captions, clipart and audio. It lets you share your created photo slideshow instantly on social medias like Facebook and YouTube. You can burn your show to DVD easily with DVD Slideshow Builder Standard or can even save them on devices such as iPhone, iPad, PSP, etc.
You just need to get the Keycode to download the application for free. Send your email details to get the Keycode and download this wonderful DVD Slideshow Builder Standard for yourself absolutely free and have a chance to gift a memorable video slideshow to your mother on the coming Mother's Day. Remember the offer will be on till the Mother's Day. So hurry and make the use of this offer now.