There are plenty of Twitter clients available for Windows and other platform. There is one more Twitter Client named MetroTwit. MetroTwit is inspired from Microsoft's Metro design and its clean user interface is beautiful to look and easy to read.
You may have used many Twitter clients like TweetDeck ect but you will find MetroTwit refreshing. You will love its minimal design. Its design is simple but it is yet powerful and feature rich Twitter client. MetroTwit is build for Windows and use latest .NET 4.0 and Windows Presentation Foundation 4 frameworks.
MetroTwit is one of the fastest Twitter client it supports Twitter's Streaming API, you can follow along hot topics and discussions in real-time. You can view picture and videos on MetroTwit with popup previews. It supports third-party media services like YouTube, TwitPic etc.
MetroTwit gives you lot of setting options from which you can change theme style (Light or dark) or Aero Glass color. Not just theme you can change the display style, notifications alert and much more from its option panel.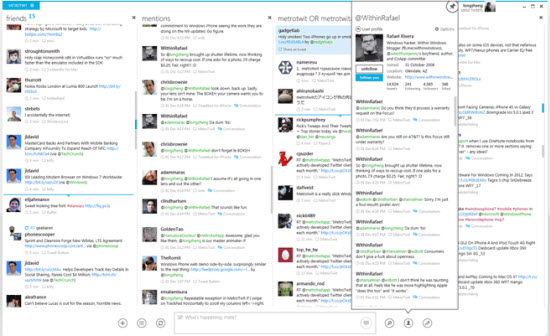 MetroTwit Features
Drag and drop images from Windows to quickly Tweet.
Follow the tweet breadcrumbs to read the entire Twitter conversation.
View latest trending topics around the world.
Read more tweets, just scroll down and more will appear almost instantly.
URL shortener that automatically saves you space and time tweeting.
Start typing any part of a username or hashtag and it find them.
Windows 7 taskbar integration – Counter in the taskbar will tell you exactly how many unread messages there are.
Themes – Choose between dark text on light background or Aero Glass color for a more consistent look.
Hover over the notifications to stop the countdown to read even more.
Resizable and reorderable columns
Flawless high DPI support
At present MetroTwit support single account but soon they are going to release multiuser account support. With multiuser account support you can add more than one Twitter account on MetroTwit.
You can download MetroTwit for free but you have it shows one advertisement it is very simple ad in will not annoy you. If you don't want any ads then you can buy MetroTwit Plus for $15.25. It will not show you any ads.
MetroTwit Show
If you want to view Tweet in more style then there is one small program which will shows your Tweets in style MetroTwit Show. Develop by the same company MetroTwit Show is amazing program to view Tweet build on Silverlight it is small program which shows tweet in blogs and effect. It background color is changed automatically and give you a fresh look everytime.