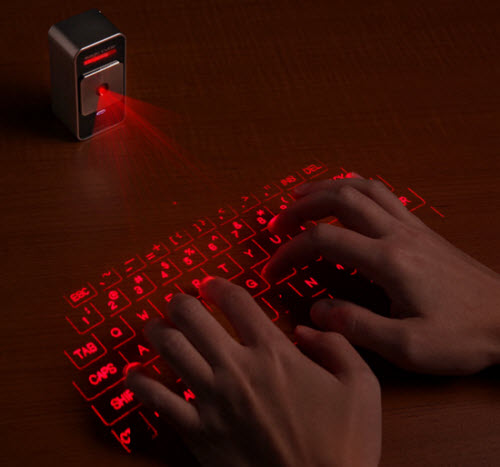 You have seen lot of virtual laser keyboard and now there is another virtual keyboard by Celluon Magic Cube virtual laser keyboard which makes key click sounds.
Magic Cube is a compact device which laser-projects virtual keyboard on any flat surface. You can type thru this virtual keyboard and it also makes key click sounds. This device create full size QWERTY layout with 63 keys laser powered virtual keyboard.
Magic Cube is very compact device; it has a very liquid interface for its laser projection, so the image of the keys is much better. Magic Cube can be used as multi-touch capable mouse, a laser projection keyboard and a handwriting recognition device. It pairs with your device via Bluetooth which makes it compatible with almost any device like iPhone, iPad, Android device, tablets, Windows phones, BlackBerry Smartphone, laptops etc. It comes with rechargeable battery which lasts for 150 minutes of continuous typing and you can charges via USB.
Product Features
Projects a full-size laser keyboard onto any flat surface
Allows the convenience of full-size typing in a tiny form factor
Connects wirelessly via bluetooth to iPhone, iPad, many Smartphones and most Laptops
Mouse mode allows you to use your finger as a mouse rather than typing when using with a laptop.
Rechargeable battery lasts for 150 minutes of continuous typing
Charges via USB. No drivers to install
Product Specifications
Compatibility: iPhone 3GS/4, iPad (iOS4), Blackberry tablet, Android 2.0 and higher, Windows Phone 7, Windows XP/Vista/7, Mac OS
Interface: Bluetooth HID and USB 2.0
Keyboard Layout: 19mm sized QWERTY layout
Detection rate: Up to 400 characters per minute
Operating Surface: Most flat opaque surfaces
Battery duration: Approximately 150 minutes, 700mAh built-in rechargeable battery
Watch video of Magic Cube
This device is available on ThinkGeek for $170. For this price point this seems little expensive and makes it exclusive product.