In the growing era of technologies everyone wants to capture the market. In competition with Apple and Samsung Lenovo has also announced his tablet named Lenovo IdeaPad A2109. There is still no pre decided date has been announced to launch this tablet but its pre ordering has been started. This tablet cost only $299.
Lenovo IdeaPad A2109 comes with 16GB. The main features of this phone are that it operates on Android 4.0 Ice Cream Sandwich operating system, runs on Tegra 3 T30SL 4+1 processor (1.2GHz quad core processor). It has a 1GB LPDDR memory for multitasking power operations.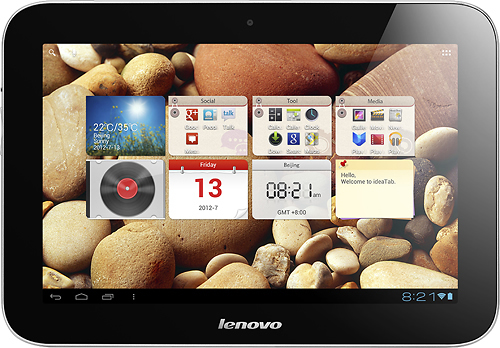 Lenovo IdeaPad A2109 has a 9 inch touch screen of 1280*800 displays with a playback of 1080p brilliantly designed for high definition videos and images. It has a 3.0 mega pixel camera at the rear and a front camera of 1.3 mega pixels for capturing all the great moments of life. It has a body coated with metal (aluminum shell) and an internal roll cage.
Lenovo IdeaPad A2109 in terms of connectivity is excellent. It has in built Wi-Fi connection for easy internet access and Bluetooth to link up with other devices and share things. The total weight of this tablet is 14.0 oz and is 0.5 thin. It is also Adobe Flash compatible with a headphone jack. A2109 has 2-cell lithium- ion battery. It has an excellent feature of Micro HDMI output for making connections to an HDTV and NVIDIA Tegra 3 graphics for lush images.
Lenovo IdeaPad A2109 Specifications
Processor: Tegra 3 T30SL 4+1 processor (1.2GHz quad core processor)
Display: 9.0″ HD 1280×800 display with 1080p playback
OS: Android™ 4.0 operating system
Camera: 1.3MP front camera, 3.0MP rear camera
RAM: 1GB
Storage: 16GB
Body: Aluminum shell and internal roll cage
Battery Type 2-cell lithium-ion
Weighs 14.1 oz. and measures 0.5″ thin
Price: $299.99 on BestBuy.com