After Samsung and Nokia up with their Windows 8 smartphone, HTC has also launched his two Windows 8 smartphone. HTC 8X and HTC 8S, HTC 8X is high priced Windows 8 phone whereas HTC 8S is a budgeted Windows 8 smartphone. HTC 8X and HTC 8S will be available in the market from November 2012 beginning.
HTC 8X Windows Phone
The new HTC 8X is smartphone build on Windows 8 as its operating system. 8X has a screen size of 4.3 inches made u p of LCD 2 screen with the Gorilla glass coating on the screen, with a resolution of 1280*720 (341 pixels). HTC 8X has a dual core 1.5 GHz Snapdragon S4 as its processor and a RAM of 1 GB.
HTC 8X has camera of 8 megapixels with LED flash at its rear but HTC has given a uniqueness to its front facing camera with 2.1 megapixels and a ultra wide angle lens of 88 degree which is amazing for using Skype on your smartphone. It can make video recording with clarity of 1080 pixels. HTC 8X has an internal storage of 16 GB which cannot be expanded. For connectivity it has Bluetooth and Wi-Fi both. HTC 8X has very powerful headphones with beats audio first time in a Windows phone.
If you compare this phone with the recently launched Nokia Lumia 920, HTC 8X has several short comings. Nokia Lumia 920 has is expandable upto 32 GB whereas HTC 8X is built on 16 GB only with no further expansions. Screen of Lumia 920 is 4.5 inches pure Motion HD whereas of HTC 8X has only 4.3 inches LCD 2 screen. The design of both the Windows 8 are somewhat similar. The only feature in which HTC 8X is superior to Nokia Lumia 920 is its front facing which is 2.1 megapixels with 88 degree ultra wide angle and beat audio whereas Nokia Lumia 920 has a camera of only 1.3 megapixels.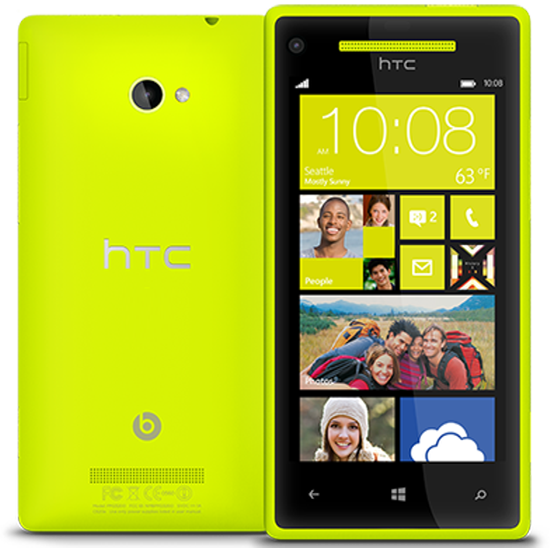 HTC 8S Windows Phone
HTC 8S is another Windows 8 phone launched by HTC with HTC 8X. The unique feature of HTC 8S is that it is a budgeted Windows 8 phone. HTC 8S has s screen size of 4.0 inches with WVGA LCD resolution and with Gorilla glass coating on the top of the screen. HTC 8S has a dual core S4 processor of 1 GHz with a RAM of 512 MB.
HTC 8S has a camera of 5 megapixels with auto LED flash at its rear and a very big short coming of no front facing camera. It rear camera supports video recording of 720 pixels. It has an inbuilt memory of 4 GB which can be easily expanded upto 16 GB using a micro SD card. For connectivity it has Bluetooth, WI-Fi and internal GPS antenna. HTC 8S has a Li-ion battery with 1700 mAh capacity. HTC 8S is available in four different colors Domino, Atlantic Blue, Fiesta Red and High-Rise Gray.
HTC is also trying to make its place in the market with the launch of its two Windows 8 phone and that two in succession after Nokia Lumia 920 and Nokia Lumia 820 Windows 8 phone.