Google now will offer you a personal music store where you can assemble all your favorite music tracks in one space and can access them from any of your devices.
Google Play Music service is a cloud based music service, where can be accessed from any device all over the world with internet access. This service is completely free for the United States users. The users of Google Music can add songs up to 20000 from their music libraries to the cloud and then can access them from anywhere.
The service is available for the Android users and Web users. The Google Play Music will contain more than 13 million songs, which will be integrated with Google Play.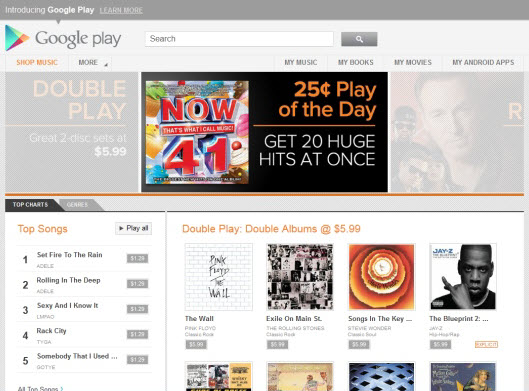 The world's no.1 Smartphone platform Android now will provide users with millions of songs which they can download from the Google Play market costing a minimum $0.99 per track. There will also be an option of caching the songs which can be played without the internet connection. Thus, you can enjoy the music at your fingertips from any of your supportable devices.
The Google music service will have the features recommendation engine which will recommend you songs according to your libraries songs, self managed price name-artist hub for independent artists, incorporation with YouTube for artists, playback music from the Market, automatic transfer of your purchases to your online locker, curated music section, carrier billing and several sharing features that are incorporated with Google+.
Google also provides to the feature of playing the music one time if your friend shares it with you. On the second time play, the music needs to be purchased from the Android market.
Google is stretching the legs in every possible corner in order to increase revenues and to compete with the other rivals Apple and Amazon. With the launch of Google Play Music the company has marked its new step, and there is also a buzz that Google will approach the pop stars like Shakira, Rolling Stones, Pearl Jam and others to sing music for them which will be available only in the Google Play Store and nowhere else.