Google on Thursday 26th July has finally after a long wait has launched his 1st Gigabyte residential fiber network in Kansas City. 1 gigabit connection to household will provide network more than 100 times faster than the current average residential broadband connection in U.S.
Google Fiber will also offer TV service which comes with Digital Video Recording (DVR), on-demand movies and TV shows. A DVR will include storage of movies and shows upto 500 hours and you can record 8 TV show at a time. For no longer you have to wait for buffering the whole thing is set at a click.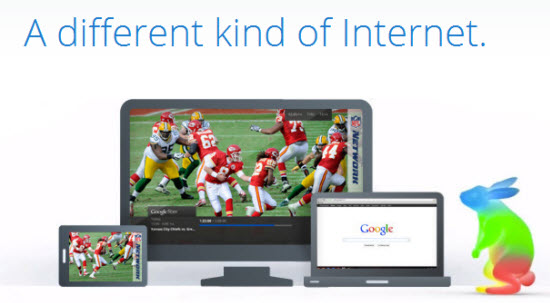 Google has decide to charge $300 for those who gets this service and the construction of the Google Fiber TV but company is giving some discount who sign primarily for both of these service. Google has offered this service in three different packages.
Both Fiber TV and Gigabit will cost $120 a month with 1Gbps connectivity. All regular broadcast channels, thousands shows on demand, hundreds of Google Fiber TV channels and premium movie channels. It also includes 1 terabyte of Google Drive cloud storage. This is not the end the Google is also providing Google Android Nexus 7 tablets free of cost.
Another package is for the customers who only want broadband services will cost $70 a month. Thos plan also offer 1Gbphs connectivity and 1 terabyte of data storage.
This package is free for the people who will pay $300 for the fiber installation. This plan is for the 25% if the Kansas City people who don't have broadband connectivity already. It has 1Mbps upload speed and 5 Mbps download speed this free service will last for minimum 7 years.
Google has announced for Gigabit and Fiber TV last year in the month of February and began to work on it later that month. It is disheartening foe the people of Kansa City that they have to wait a bit to get these fiber link installed in their respective domicile. People there in Kansa City has just to give an initial deposit of $10 to get them registered.