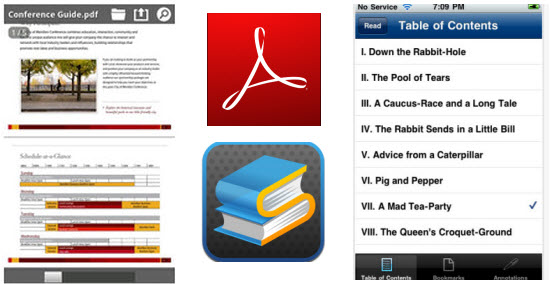 The post popular format for eBooks is PDF (Portable Document Format) created by Adobe Systems. Today millions of free eBooks are available on PDF format and to read these eBooks you need PDF reader.
There are many free PDF readers available for computer but these days mobile devices are becoming more popular for reading eBooks. Now day's mobile devices like smarphone, tablets are great way for reading eBook as you don't need any separate device for reading eBooks.
There are plenty of free applications available for Android and iOS deices which will help you to read PDF files on your mobile devices. I am not going to tell many free apps for reading PDF file because you just need one PDF reading app for your mobile device.
Adobe Reader for Android Device
What can be the better PDF reader then Adobe Reader creator of PDF format? Adobe Reader provides fast PDF viewing on Android smartphones and tablets. With Adobe Reader you can read Password-protected PDF files, text reflow mode to adjust document content to fit screen size, Touch-based gestures for efficient navigation and zoom in the PDF. Adobe Reader also offer built-in file manager which help you to quickly access all PDF files stored on your device organized by location as well as recently viewed files.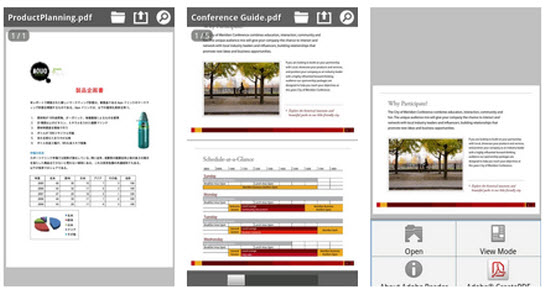 Apples mobile devices like iPhone, iPod and iPad are most popular gadgets and there are many users of these devices. There are many free and paid apps available for iOS and Stanza is great free app for reading PDF and other eBook formats.
Stanza help you read books on your iPhone, iPod Touch, and iPad. Stanza is downloaded over 4 million downloads around the world. Stanza supports ePub, eReader, PDF, Comic Book Archive (CBR & CBZ), and DjVu books. With Stanza you can easily organize your eBooks. You can easily transfer your eReader and PDF archive from your computer to your iPad.