Google has released another version of Chrome the latest stable release is 20.0.1132.47. It is little frustrating for Google Chrome user to update their browser every month with another version rerelease.
There are about 2 new updates every month for Google Chrome browser and a new release version every month. No doubt Google Chrome is great web browser but updating browser with latest release again and again is little frustrating. Google Chrome can update itself in background but still it is very bad experience for many users.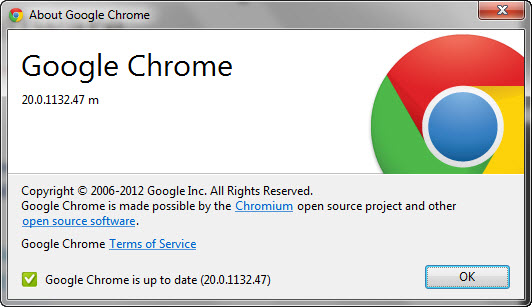 The latest Google Chrome 20 has not many changes in front end nor any improvement in user work experience this release came with just bug fixes. Google Chrome 20 has 20 bug fixes and just after 2 days of Google Chrome 20 release there is another release. In this release Google has disabled some Chrome GPU acceleration features on Mac to prevent resource leak which was causing a kernel panic. This is temporary changes and Google is working on fixing this issue and soon we will see another Google Chrome release.
Bug fixes in Google Chrome 20
Leak of iframe fragment id.
Prevent sandboxed processes interfering with each other.
Use-after-free in table section handling.
Use-after-free in counter layout.
Crash in texture handling.
Out-of-bounds read in SVG filter handling.
Autofill display problem.
Misc. lower severity OOB read issues in PDF.
Use-after-free in SVG resource handling.
Use-after-free in SVG painting.
Out-of-bounds read in texture conversion.
Use-after-free in Mac UI.
Integer overflows in PDF.
Use-after-free in first-letter handling.
Wild pointer in array value setting.
Unqualified load of metro DLL.
Use-after-free in SVG reference handling.
Uninitialized pointer in PDF image codec.
Buffer overflow in PDF JS API.
Integer overflow in Matroska container.
Wild read in XSL handling.
Integer overflows in libxml.
I love Google Chrome and I use it in my office where I have to update Google Chrome on each computer which is very frustrating and Google don't provide and offline installer. We search for Google Chrome offline installer and feature it on this blog. Recently Google had disabled all direct download offline installer from their website. But don't worry you can still get Google Chrome latest offline installer from link below.