The world fastest browser just got improved the Google's Chrome team announces the release of Google Chrome 18 to the Stable Channel for Windows, Mac, Linux and Chrome Frame. Google Chrome 18.0.1025.168 offers you more improver, fast internet surfing and fancier graphics.
Chrome team enabled GPU-accelerated Canvas2D (capable Windows and MAC computers) in Google Chrome 18 which gives web application to perform just like the pure software implementation this means your online games runs in your browser just like the game installed in your computer. New Chrome enabled with SwiftShader, software for user who have older configuration with this software they will be able to access to basic 3D content on the web. But this software is backed by WebGL so it's never going to perform as it performs in real GPU still it will be an improvement for many of our users on older operating systems such as Windows XP.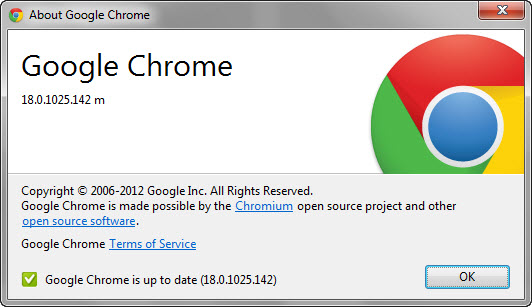 As we all know security is a key feature of Google Chrome browser that is why Google organize Pwnium competition every to study the vulnerability in Google Chrome security and in the last Pwnium contest Google Chrome team get following exploits submission:
Bad interaction possibly leading to XSS in EUC-JP.
Out-of-bounds read in SVG text handling.
Out-of-bounds read in text fragment handling.
SPDY proxy certificate checking error.
Off-by-one in OpenType Sanitizer.
Validate navigation requests from the renderer more carefully.
CVE-2011-3064: Use-after-free in SVG clipping.
Memory corruption in Skia.
Invalid read in v8.
Google Chrome 18 Updates
These bugs have fixed in this new stable version of Google Chrome 18.0.1025.142 and the new Chrome also got updated with latest Flash Player 11.2 to enhance your multimedia experience in Desktop and in your Mobile device too.
Date: April 09, 2012 – The latest Google Chrome Stable channel is updated to 18.0.1025.152 on Windows.  This release fixes issues with SSL (Issue: 118706).
Date: April 30, 2012 – Another Google Chrome 18 updated now current release version is 18.0.1025.168 which includes some bug fixes like:
Use after free in floats handling.
Use after free in xml parser.
IPC validation failure.
Race condition in sandbox.
Google Chrome 18 comes with the online installer. If you are looking for the offline installer you will not able to download it directly from Google Chrome website. But you can download the offline installer of Google Chrome 18 from the links listed below.
Download Google Chrome 18.0.1025.168 Offline Installer