Firefox just got updated from Firefox 10 to Firefox 11 since the launched its new version of Chrome Mozilla Corporation doesn't want to lose the battle even though they launched their previous version in late January. This is clearly seems a tough browser war is going on between Mozilla operation and Google they both want to win this browser war and the war got bigger since the arrive of new web standards of HTML 5.
The fight of market share Firefox has 21% approx where as Google Chrome claims 19% of the pie and the major share of the rest eaten up by Microsoft Internet Explorer (IE) which stands with 53% of the share.
Firefox added so many features since the launch of its Firefox 4 and to made so many timely updates and bug fixes to remain in this browser war. There are so many advance features which makes Firefox 11 a great browser some of them are listed below:
Panorama and Pinned Tabs: Firefox revolutionized the way we managed the tabs with its "Panorama" feature. By clicking Mondrian icon all the way to the top-right of the window you will be able to drag the tabs between groups, and resize and move the group boxes themselves around. You can even name the groups to keep them organized.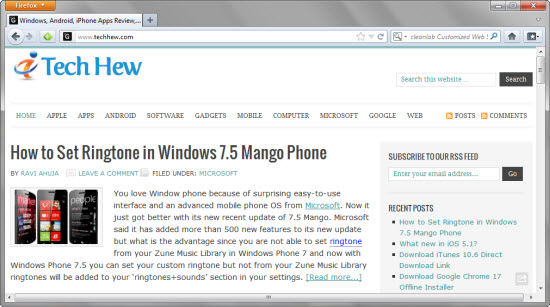 Firefox Sync: with the Firefox 11 Sync you will be able surf the web more freely it keeps all your bookmarked sites, your browser setting and even the extension you installed with you in your Firefox account so you are not limited to one computer you can access your bookmarked website, browser setting, browsing history, opened tabs and all the installed extension in any of the Firefox installed computer by just logging to your Firefox Account. This Sync feature also offer by other players like Chrome and Opera but still Firefox has a lead in the 'on-the-go' offering.
Add-on (Extension): Add-on of Firefox offers you the multitude of customizations through third-party extensions. Now all the browsers offers Add-on but Firefox still offers the maximum numbers of Add- on than others. Firefox is not just offers you only the maximum numbers of Add-on it also offers you so many Persona (Themes) so you can easily customize the appearance of the Firefox.
If you are an existing user of Firefox and not sure whether your Add-on will support on the upgraded version or not then you should not worry about it as long as you have Firefox 4 or higher because all the Add-on in Firefox 4 supports Firefox 11 too.