Love the video song at YouTube and want to save it on your personal library? Or like the Facebook, dailymotion, Veoh or any other website's video content. Just paste the link address of the video on free video downloader and the video gets downloaded on your PC. Isn't that too easy?
Yes, freemake.com a software company in US provides you a software Free Video Downloader which is capable of downloading the videos from any website without any interruption and quality degradation. You can also extract audio, MP3 from YouTube and can convert any online video to AVI, MKV, MP3, iPhone, iPod, PSP, Android. All this is absolutely Free of cost.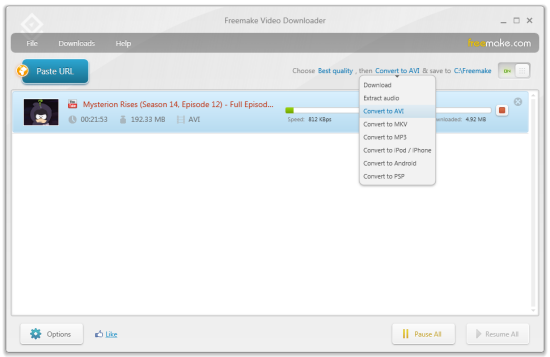 All About Free Video Downloader
Freemake's Video downloader is an easy to use video downloading application capable of downloading any web video and converting them to any of the file types to use on your favorite devices.
You just simply need to find the video you want to download on the web; copy the link and hit the Paste Link button in Freemake Video Downloader to begin downloading. Depending on the original video quality, the software gives you the options in which format the video can be downloaded.
Features of Freemake Video Downloader:
It's a free video/ YouTube downloader without any hidden cost and can download videos in any format on your PC from among10000+ websites.
The software can also extract audio from the videos making it suitable for listening in mp3 format on your audio players. The audio quality remain the same as in YouTube and you can extract audio from Facebook, Megavideo, Vimeo and all other supported websites.
Batch Processing: The freemake video downloader can also set batch parameters for input quality, action, destination and automatically can rip video in accordance with your saved settings.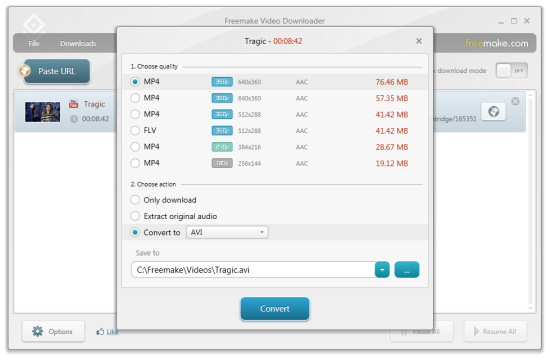 Direct Video Converting: Video downloader is also capable of converting videos during download process. You can convert video directly to AVI, MKV, 3GP, MP3, iPod, iPhone, iPad, PSP, Android during the download.
Ad-Free Video: The downloaded video from freemake video downloader does not contain ay ads. It automatically removes ads placed on YouTube videos.
Overall, it is an easy way to download videos through freemake downloader and with its great features and support for many video format it can be a good utility software to try for and on the top it costs you nothing.