In day to day working your PC gets loaded with lots of junk files, temporary files and other unwanted data that consumes unnecessary space and greatly hampers the speed and overall performance of your system. Now with SlimCleaner, free utility software from Slimware Utilities, you can quickly and easily clean up your PC to make it run faster and give optimized performance. So SlimCleaner frees the much required disk space and boosts up your computer's performance.
SlimCleaner uses social networking and community-sourced feedback to repair and optimize your computer system. It is the world's first PC cleaning software with a crowd-sourced approach to give aggregated-cloud feedback for optimizing program settings, start-ups, services, scan for viruses and malware, remove junk files and provide software suggestions to enhance system performance. SlimCleaner draws from the experience of the real users to give you the right kind of solution for your PC. It analyzes your settings, system, software and compares them with the Cloud's knowledge base to give customized recommendations for optimizing your PC.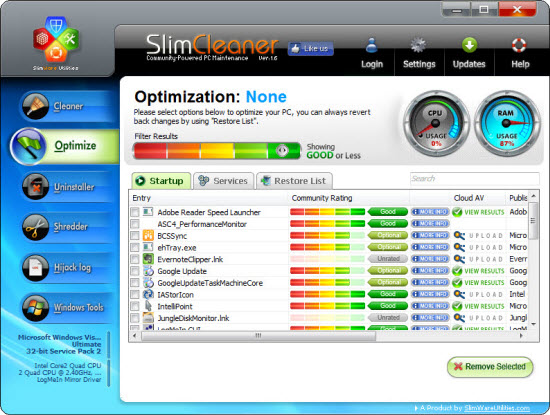 SlimCleaner has a colorful and a well laid out interface which enables easy understanding of the overall features provided by it.
Various functionalities are bundled in the form of modules which are provided on the user's home screen in a tab menu style. It has a Cleaner module together with other modules such as Optimize, Uninstaller, Shredder, Hijack log and Windows Tools.
SlimCleaner comes with the Cleaner module which has one of the fastest and the most robust for analyzing and removing unwanted files from a PC. The Optimize module provides cloud-based optimization engine to give community-sourced feedback for adjusting start-ups and services that affect system performance. In the Uninstaller module, SlimCleaner give suggestions about which applications you should keep or remove using the real-time stream from the cloud for community feedback. In the Hijack log, SlimCleaner scans for startup items, BHOs, ActiveX controls, toolbars, browser plug-ins and other or malicious programs that can hamper or modify a system. As for the Windows Tools, it enables and organizes all the system tools and settings at one place in the SlimCleaner interface.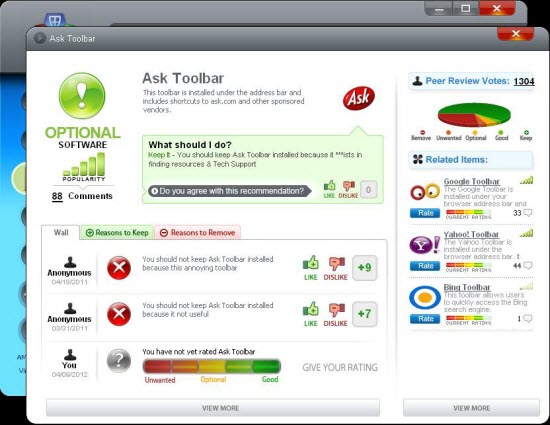 The new version of SlimCleaner, SlimCleaner 3.0 has included a new module as Disk Tools which is designed to keep all types of drives free from any clutter and to keep them safe and secured such as external drives, internal hard drives, flash drives and other drives as well.
So SlimCleaner can be used by anyone who wishes to keep his or her system free from all types of clutter and optimize its overall performance. Users can take the advantage of cloud-based system cleaning of SlimCleaner which is comparatively faster than regular scans. SlimCleaner provides a wide range of optimizing tools and that too in one free utility. As it comes for free download, you can always test SlimCleaner for benefits and other features. So you can definitely clean your PC with SlimCleaner.