Buying a new cell phone at present can be one hell of a task to handle. Looking at the current scenario, there are about half a dozen mobile phone operating systems in the market. But only two of them have managed emerge as the leading and the most reliable ones, namely Android and the iOS. Both of these operating systems are one of a kind and offer different functionalities. There are pros and cons of everything in this world and this area is no different. While deciding to buy a new smart phone, there are some limitations and interests which the customer holds. Like budget and usage.
We shall look at the goodies and drawbacks that both mobile phone operating systems have to offer, and then try to arrive at a conclusion. Alright, let's start with Android. With the introduction of this operating system by Google, it completely revolutionized the way we look at our mobile phones. Android was hero who pulled masses out of the well of Java and Symbian era. Buying an Android device is one of the smartest moves you can make as of now. Being open source, people around the world have the option of writing applications for this operating system; hence it has a market containing tons of apps. Also, expert programmers develop custom ROM's which completely change the look and feel of your mobile.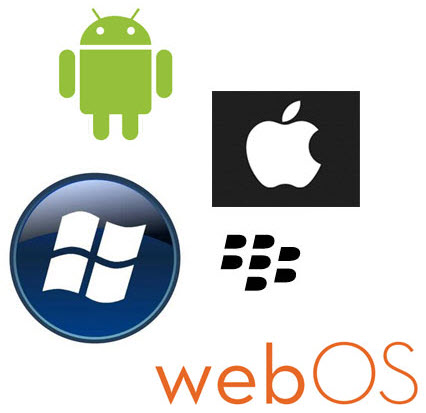 Android is a vast operating system, no doubt. But even the best mobile phone operating systems require a minimum hardware to be able to run on. Because of the variety of devices available, some of the low end mobile phones do not have sufficient hardware requirements to be able to run it smoothly without any glitches. The high end devices handle it very nicely, like the Galaxy S2 which has been titled as the best smart phone yet.
Apple, another fierce competitor has taken a large share in the mobile industry with the launch of the iPhone, which runs the iOS operating system. There are many fan boys of apple who dearly stick to it and then there are many critics who are completely against. We shall keep in mind a buyers point of view while pointing out the pros and cons. The iPhone 4S which has been recently launched has a new revolutionary voice recognition system called the 'Siri' through which you can perform basic task by just talking to the phone. The app store is not that huge as the android, apple claims all the apps in their store meet quality standards. Besides these advantages, there's no avoiding the big monster in the room, 'THE PRICE'. The amount of money spent for a new iPhone 4S is phenomenally high as compared to the models from other manufacturers with similar hardware specs. Also there are a few glitches which the user might encounter while opting for apple, there is no service to transfer your music to another device using Bluetooth and also the problem of depending upon iTunes to manage the content on your device.
The third competitor which has recently drawn attention of the crowd is the Windows 'Mango' OS for smart phones. But as for now, it will be better if you would avoid going for this platform as Windows has yet to make a mark in this market. Also the Lumia 800 handset which is the latest model from Nokia admittedly has a lot of problems including a faulty battery which sadly is irreplaceable.
So what is the verdict? What should a user at this point of time opt for while hunting for a Smartphone? Well, there is no conclusive answer as the needs of every customer differ in a large magnitude. If you have a low budget and want to experience the feel that a new generation Smartphone offers, then you should go for the Android as there many models out there which will fit your budget. If price be no bar for you, and you want to flaunt your new tech toy and also want it to do all your tasks easily like with voice recognition, go for the Apple iPhone 4S. For those of you, where price does not matter and also want to mod your phone to unlock its true potential, there are few high end devices on Android which will outperform almost everything else in the market, and give you complete control on its hardware after a bit of tweaking.