AVG Technologies best known for antivirus protection has released a new version AVG Anti-Virus Free Edition 2012 with important security improvements, including protection against fake antivirus and ransomware. Certainly, this edition antivirus scans faster, installs more quickly and provides enhanced protection against phishing.
Interface: With some tweaks to the interface they have made it easier to view. The 2012 antivirus edition's main screen reduces the previous edition's ten component icons down to six, but it has three new buttons to integrate the company's other products. There is one-click Fix button that automatically repairs security faults that appears at the top along with a yellow X when your system safety has been compromised. It disappears when your system is fully protected. There's a clean look given to the navigation as well as fonts are bigger and also includes timestamps for the most recent scan and most recent update.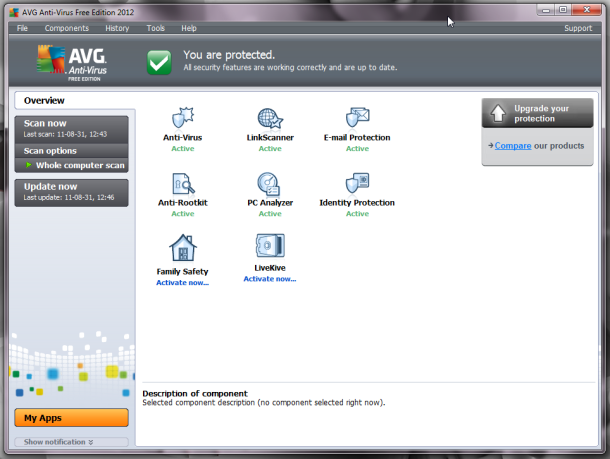 Lighter and Speedy: The Company assures that it has reduced virus signature database by 40 percent on your hard drive. That database mainly decides how the program recognizes threats. AVG antivirus also stated that the number of running processes that run suite has been reduced from 16 to 11, which means that it uses 20 percent less memory overall than previous versions which is liable to impact your computer's boot time less. Mentioning about speed, the new AVG anti-virus completes the full scan of system in just 16 minutes, and a repeat scan finished in less than two minutes. That's really fast as compared to other recent products.
New Features: AVG 2012 added two new core security changes to make your system safer. The first is a patent-pending technique for recognizing one of the most obnoxious threats: the fake antivirus, which pretends as an antivirus. The other one is related to the ransomware infections, which don't even bother with the effort to pretend to be an antivirus. AVG 2012 will block both of them.
The LinkScanner tool has been improved to watch out for more dynamic code, which is essential in the security game to counter multiplicative threats which emerge at a rapid rate. AVG now also includes AVG Adviser, a monitoring tool that automatically warns you when Firefox, Chrome, or Internet Explorer consumes too much memory. The smart scanning tech also gives you a built-in system resource manager that prioritizes scans.
AVG also installs a browser toolbar that offers safe search, current weather, and quick access to Windows Explorer, Notepad, Calculator and a useful Facebook button. Once you install the AVG Facebook app, clicking the button gets a quick view of your news feed, notifications, friend requests, or messages.
Verdict:
This product is a great choice overall for free antivirus protection. It has shown good results malware removal test and very good scores for malware blocking as well. AVG Anti-Virus Free continues to offer an excellent level of security, and is well-worth to your system's security.