ASUS has launched a combo of both smartphone and the tablet PadFone 2. PadFone 2 is the upgraded version of PadFone. PadFone was not a success because it was too bulky but PadFone 2 is sleek beautifully fitted smartphone in a tablet.

ASUS PadFone 2 is launched today (16th October 2012) at Taiwan by the CEO of ASUS (Jerry Shen). ASUS PadFone 2 is available with 16 GB, 32 GB and 64 GB model. If you even need to purchase the smartphone only you can easily purchase it.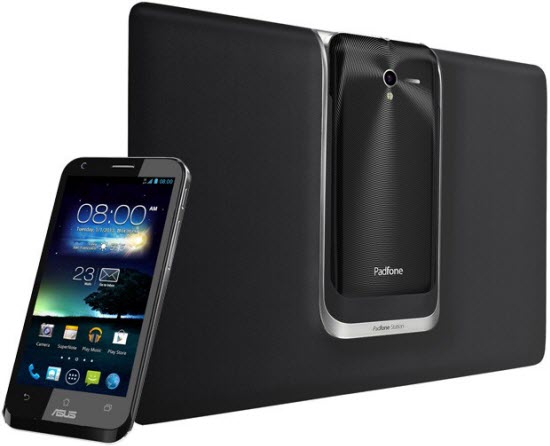 PadFone has been priced at $616 for 16 GB model, $684 for 32 GB model and $750 for 64 GB model. It will available in Taiwan from next week and with white color it will be available soon no dates have been decided yet.
Firstly, the smartphone. ASUS PadFone 2 phone has screen of 4.7 inches having 720 pixels with Super IPS and panel. It runs on Android Ice Cream Sandwich as an operating system and soon upgrade will be available by ASUS to Jelly Bean.
Asus PadFone 2 phone has a quad core Qualcomm processor and 2 GB RAM. It also has a 13 mega pixels camera at its rear and 1.2 mega pixels at its front. It comes with a 50 GB ASUS web storage and no micro SD card option available. Even it will be giving LTE facility in Australia, Japan and North America.
ASUS PadFone 2 tablet comes with a screen size of 10.1 inches (1200*800) IPS display. It has a total weight of 649g in which tablet has a weight of 514g and phone of 135g. The weight is reduced by lessening the battery weight which was earlier of 6600mAh and now of 5000mAh. It has a dual plug arrangement and 40 pin connector with it.
In all it is a very god deal you can have both tablet and smartphone in just one. It is the only PadFone until now in the market. You can only buy phone or tablet or both.