Angry Birds Rio is most popular game, and there are many friends who wait for new release and updates. The game Angry Birds Rio is available for Android, iTunes, Amazon App store and Nokia Ovi store.
This Angry Birds Rio is the third game Angry Bird Game by the developers of Angry Birds.
In Angry Birds Rio, the birds are kidnapped when they are having fun in Japan, and they are dragged in a cage to the beautiful and magical city Rio de Janeiro. They are taken in boredom where they set them free and found that many of their other friends are also trapped there. In this level Angry Birds also save their friends Blu and Jewel.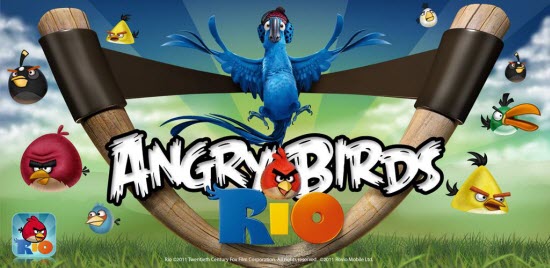 This update Angry Birds Rio is more or less similar to the previous update. In previous version birds attack on bad green pigs, but in this they defeat monkeys.
In all there are total of 180 levels in Angry Bird Rio divided in to 6 equal episodes.
This is not an end to the adventure of Angry Bird Rio there are 12 new and amazing bonus levels also. These bonus levels are locked, and you have to unlock them by collecting the fruits offered in every episode.
All these new bonus levels are available for Android and iOS only.
There is continuous update in Angry Bird Rio. As even after the 6 episodes and bonus levels for Android there were two more updates one golden beach with fifteen episodes in it and then trophy room with twelve episodes in it. The new twelve episodes are unlocked when a player clear the initial fifteen levels by collecting all the fifteen golden fruits.
Now this Angry Bird Rio is free for all the Android and iOS devices. As angry bird games are never old this game is fun to play.
Download Angry Birds Rio for Android