Not satisfied with the performance of Google Chrome or Firefox or facing the problem of switching browsers while opening certain specific sites. With Lunascape web browser you need not to go for any other browser as it already combines the best of all browsers. Lunascape is a Freeware software which provides all functionalities of different browser under one interface thus preventing you to go for others browsers.
Lunascape is the world's only triple engine web browser that combines best features, performance, and speed of Windows Internet Explorer, Mozilla Firefox, Google Chrome, and Apple Safari all in one. In the past if you were facing problems with these browsers while opening certain websites then the single and simple solution is to switch to Lunascape.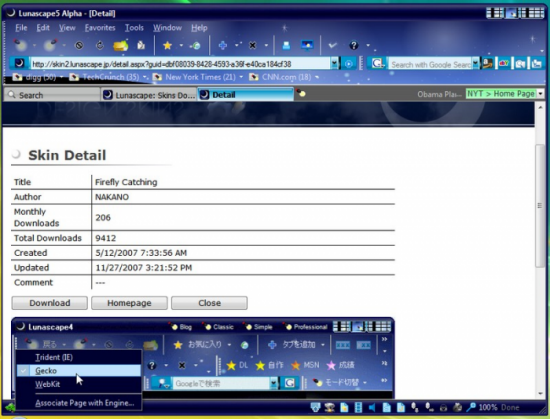 Lunascape combines rendering engines from Firefox, Chrome, and IE and makes it easy to switch between them. It has three engines: Trident (from Internet Explorer), Gecko (from Firefox), and WebKit (which powers both Google Chrome and Apple's Safari).
Suppose using the Google Chrome (WebKit engine) you face problem while opening a website and it shows an error message. Now using Lunascape, instead of opening a new browser to open the page, you can simply select the other engine Gecko (from Firefox) from the menu next to the address bar and this will enable the page to automatically get refreshed and display it properly.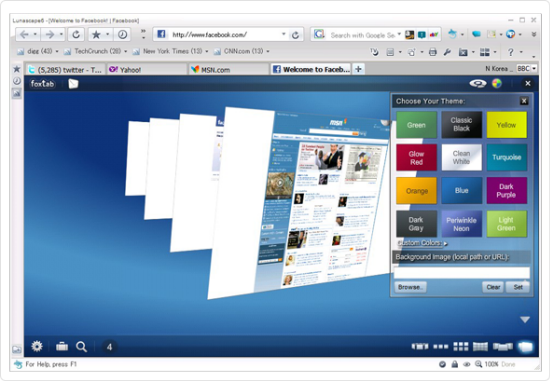 The latest version 6.0 ORION provides some additive features which make it further fast and improved. The new features are:
Along with triple engines now it also supports Triple Add-Ons: Lunascape is now compatible with Firefox add-ons in addition to the already supported Internet Explorer add-ons and Lunascape plug-ins.
More Extensible and Fast: Lunascape6 gets more faster and provides greater extensibility. You can browse lightning fast while enjoying ample add-ons.
Interface Revamped: The new interface gets simpler, sleek and minimalistic with all basic functions and But still you can customize it in many aspects.
Triple Engine Side-by-Side Display: Now you will see the new split tab display which enables you to view a web page in 3 rendering engines side-by-side to easily check the browser compatibility.
Along with above features it adds many others new functionalities and moreover Lunascape now works for your iPad and iPhone also. Thus, with one of the fastest browsing speed and pursuing great features and customizable options Lunascape is lightweight and fun to work on browser.