Many a times and lots of people face the problem of slowdown of speed of their computer as it gets older. It's a normal thing to happen, as in hardware due to wear and tear the equipments gets damaged with the passing of time, similarly in case of softwares, where not because of physical reasons but due to some internal reasons and usage the speed gets slowed and your system hangs up too often. There are certain measures which you can take which will aid to speed up the PC not drastically but still noticeable. You just need to change some settings and run some cleaning programs to boost up the speed. They are:
1. Remove unnecessary programs from startup: As your system boots (start) there are certain programs which run automatically. Some may be useful to you while others may just be expanding the start up time. You can easily remove them from the list. The startup program list can be seen by typing "msconfig" on your run menu (Win XP users) or simply by typing it on the search bar.
There is tab of startup in the System configuration window and from there you can select/deselect the start up programs.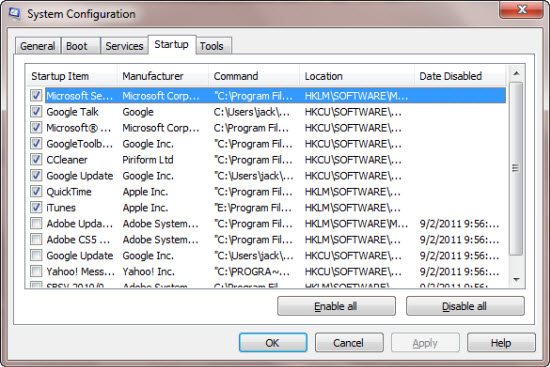 2. Regularly use disk cleaning softwares: There are certain softwares available which clean up extra disk space and increase the speed of your PC. Some are premium softwares while some are freeware. For e.g. you can download for FREE ccleaner from the below link
http://www.piriform.com/ccleaner
This software will clean up your system by removing all your temporary files, recycle bin files, browser files and other unnecessary files.
You can add up this program at startup menu to automatically clean the system regularly.
3. Change the performance settings to best performance: If your system is too old and hangs a lot you can change your computer settings which will give you the best performance. You can change the setting by following the below path
Right click My Computer icon-> properties->Advanced System Setting->advanced->performance->settings->visual effects->adjust for best performance.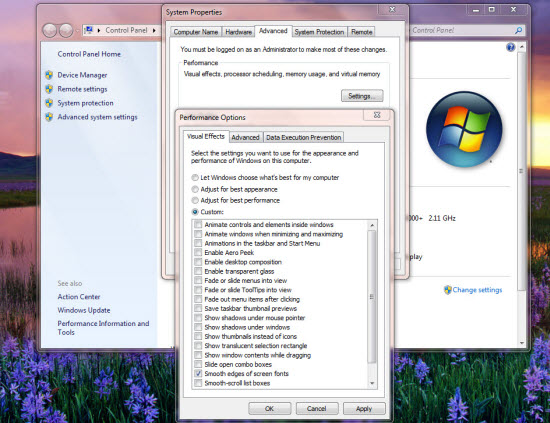 On selecting the "adjust for best performance" from the menu the system just displays the necessary visual effects and speeds up your system. No transparency and 3D effects will be noticeable after the settings.
4. Stop the unwanted services: There are many services which run on background and slow the speed of your PC. You can stop these services first and select it as manual. This will enable the service to start when you want it.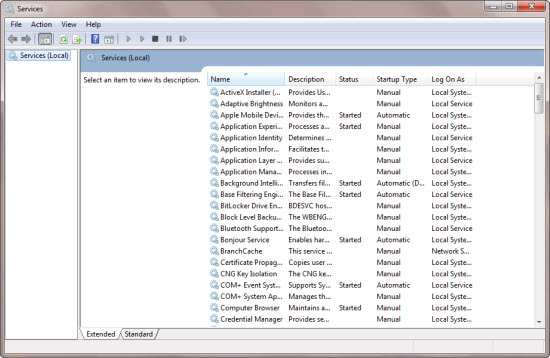 Type "services.msc" on your run program and the whole list will appear. From there you can stop the unwanted services and on going to properties you can select it as manual start.
5. Delete those programs which are of no use to you: You can uninstall the programs which are of no use to for you and are acquiring large spaces in your memory. More the free space in your disk, faster is your computer.
6. Always turn on automatic updates: Turn the automatic updates on if you regularly use the internet so that any new version of the software can be installed. Newer versions are always improved and light weighted which can further speed up the system.
7. Close the remote access feature of your computer: Remotely accessing of the system is rarely used by common users but on background it keeps a regular check whether any request has come or not. You can deselect the remote access feature by clicking on the properties menu of my computer-> remote setting->remote assistance->deselect allow remote access assistance to this computer.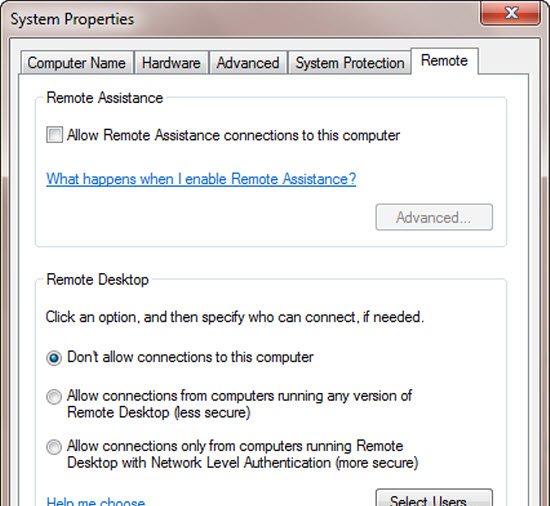 8. Do not run any downloaded Themes: The themes you download for your desktop in Windows 7 and Vista slows up your speeds too. Always use the default theme to increase the speed.