Whether you're a consumer, business, government agency, or educational organization, you need to read and gloss PDF documents and fill out PDF forms. So for this you need a PDF Reader which should fulfill all your needs. Any user wants the PDF reader to be:

Fast – so that it opens the document quickly.
Lightweight – so that document can easily be deployable and doesn't exhaust system resources.
Secure – you don't get infected with viruses and can keep sensitive information safe.
So possessing all these features and functionality we have listed the 5 best Free PDF Readers which may be helpful to you.
5 Free PDF Readers
Adobe Reader X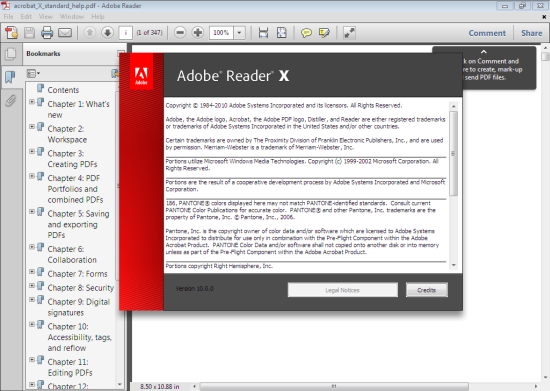 Adobe Reader X is the free global software by Adobe Systems to view, create, manipulate, print and manage files in Portable Document Format (PDF). It's the only PDF file viewer that can open and interact with all types of PDF content, including forms and multimedia.
Adobe Acrobat X (version 10.0) was released on November 15, 2010. It included sandboxing protection for Windows XP, Windows Vista and Windows 7 and protected mode view dropping support for Windows 2000 as well as Macs running on PPC.
Adobe Reader X is available for Windows, Mac OS, and Android. The latest version of Adobe Reader X is 10.0.2 for Android and 10.1.0 for Windows and Mac.
Its features include:
Access to all PDF files
Enhanced commenting tools like sticky note and highlighting tools
Industry-leading security
Online services, and many more.
Download Source
Foxit Reader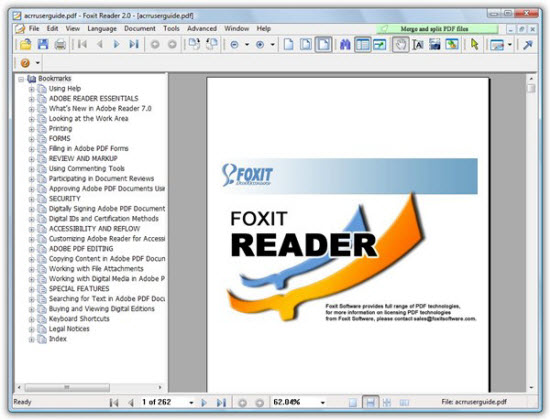 The Foxit Reader is a small, fast, secure and feature rich PDF reader which allows you to open, view, and print any PDF file.
The Foxit Reader is packed full of convenient and easy to use viewing, editing and printing features that make document collaboration simple. Apart from all features present in other PDF readers, Foxit Reader also includes easy to use collaboration features like the ability to add annotations, fill out forms, and add text to PDF documents. This fast Foxit Reader starts up instantly, renders PDF files quickly and uses very little memory, which is really necessary in today's handheld devices.
Foxit Reader's provides robust security and insures worry free operation against malicious virus and gives a secure and reliable digital signature verification platform for exchanging electronics documents without putting the user at risk from fake documents.
Foxit reader is available in Windows and Linux platform. The basic requirements needed to install and properly run Foxit Reader at your desktop are:
1.3 GHz or faster processor.
64 MB RAM (Recommended: 128 MB RAM or greater).
52 MB of available hard drive space.
800×600 screen resolution.
Download Source
PDF- Xchange Viewer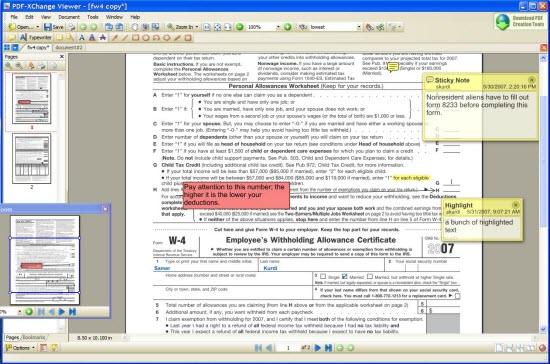 The PDF-XChange Viewer, a product of tracker softwares, is a smaller, faster and more feature rich than any other FREE PDF Reader. You can View/Modify or perform simple editing of PDF files on your Windows PC's with PDF- XChange viewer. The company offers two version of this software –FREE and PRO, Pro equipped with more functionality. The software also includes the PDF-XChange Shell Extensions and iFilter.
The licensed PDF-XChange Viewer 'PRO', is in fact a PDF creator, allowing users to create PDF files directly from scanners, image files and can even take a .txt or .rtf file and convert to PDF or build your PDF document from the base.
The features included in free versions are:
Add Comments and Annotations
Add & apply Custom Stamps
Measurement Tools incl. perimeter and area
Type directly on any PDF page
Export PDF pages or entire files to any one of the supported Image formats
PDF Security Support, etc.
Advanced PRO features include:
Page deletions
Insertion and import of pages
Cropping pages
Summarize and export Comments and many more.
The company also offers a free copy of PDF- Xchange 4.0 lite with the purchase of PDF-Viewer.
Download Source
Nitro PDF Reader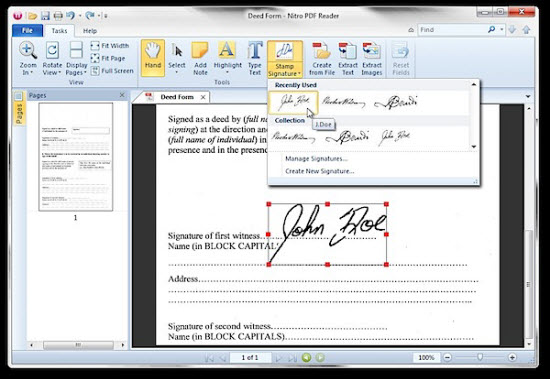 Nitro Reader offers features and functionality far beyond typical PDF readers, and makes working with PDF easier than ever before. It includes all the key features that you want in a PDF reader, a familiar interface and smooth functionality.
Elaborating the features of this reader: Users can comment on PDFs using notes and text markup, fill out forms, print to PDF, or create one by dragging an existing document into Nitro, share and comment with others, and securely sign a document. Thus use all such features that too for free.
Nitro sports a ribbon-style interface and looks slick and connected to Microsoft Office with an option of customization. Other features include: Full-screen viewing, rotate, zoom in/out, conversion to plain text, snapshot tool and extracting image tool. Nitro also provides protection and security by restricting the internet access thus protecting you from opening undesired links.
Download Source
Nuance PDF Reader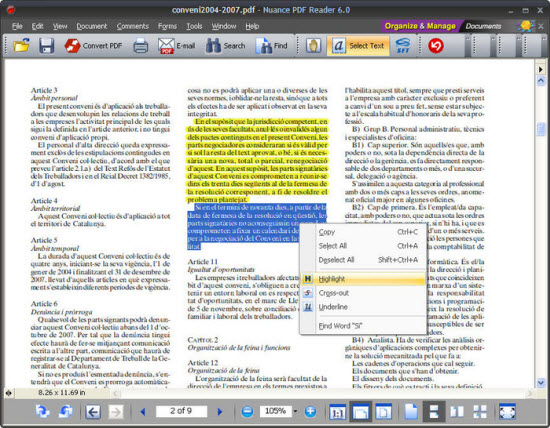 Nuance PDF Reader is enriched with many features that enable you to do much more than just view PDF files. You can convert PDF files to Word, Excel, and RTF via a hosted web service and can use annotation tools to highlight, cross-out, and underline text for more effective collaboration. Even you can fill out and save PDF forms.
Nuance PDF Reader is lighter than others and takes up less disk space and is even more secure than Adobe Reader, and works with virtually any PDF file and best of all, it's absolutely free. It requires 50 MB of free hard disk space for application files plus 50 MB working space during installation
It includes features like:
Conversion to editable text
Printing with comments
PDF Portfolios and package
Adobe Flash and Microsoft Silverlight
Movie playback which supports playback of embedded movie file
Verification of signed documents and others.
Download Source