With Samsung Electronics introducing its latest tablet Samsung Galaxy Tab 2 10.1, all the multi-media lovers have got a great opportunity to experience and enjoy videos and games in a more richer and entertaining way on its large 10.1 inch HD screen display.
Samsung Galaxy Tab 2 10.1 has been empowered with a host of new and improved features including its all new OMAP4 1GHz dual-core processor from Texas Instruments. Let's have a look at the special features and specifications that Samsung Galaxy Tab 2 10.1 is set to offer to its users.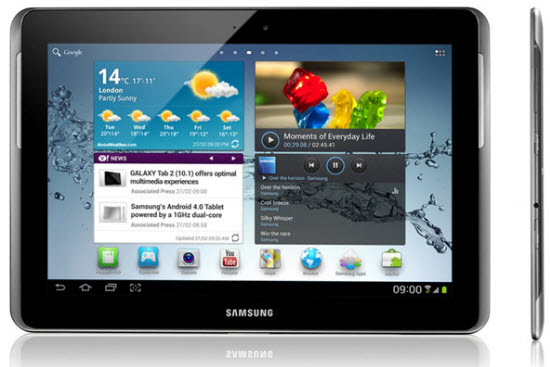 Compared with its predecessor (Samsung Galaxy Tab 10.1), Samsung Galaxy Tab 2 10.1 is a much lower costing tablet. The NVIDIA processor which gave access to the gaming world through the Tegra Zone has been replaced by the IR-blaster. The Samsung Galaxy Tab 2 runs a wide variety of Samsung applications like Samsung Media Hub, AllShare, ChatON and Peel smart remote allowing you to have a control on your media for variety of players, alternate screens and to make sharing between devices fantastically easy.
Samsung Galaxy Tab 2 10.1 has been provided with front-facing speakers and a 3.0 megapixel main camera which if not fabulously great is perfectly alright for taking quality pictures for uploading at Facebook or Twitter or for your photo gallery. It also has front VGA camera for video calling. Together with this, it has got a Li-ion 7000 mAh battery that has a battery-life that would be good enough for several days if it is not used too heavily or you can expect a service of 8 hrs maximum if you plan to watch many full-length videos.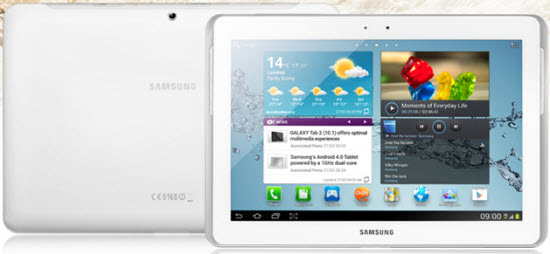 Galaxy Tab 2 10.1 has got Android 4.0, Ice Cream Sandwich operating system and supports almost all kinds of video and audio formats including video formats such as AVI, 3GP, MPEG4, FLV, WMV, MP4, etc and audio formats such as MP3, WAV, OGG, AMR, WMA and many others. It has a 16/32GB of internal memory with 1GB of RAM and supports external memory expandable upto 32GB.
Galaxy Tab 2 10.1 supports Bluetooth and also Wi-Fi Connectivity as well. It weighs 581g (Wi-Fi) / 583g (3G) and comes in dimension of 256.7 x 175.3 x 9.7 mm. It includes several valued added features and services including Samsung TouchWiz / Samsung L!ve Panel.
Looking at its various specifications we can definitely say that Samsung Galaxy Tab 2 10.1 is perfectly suitable for watching movies, browsing the web and as well as for transmitting media. So Galaxy Tab 2 10.1 gives you a wonderful chance to have a more richer entertainment experience through its large 10.1 inch 1280×800 HD Screen. You can too have your own Samsung Galaxy Tab 2 10.1 as it is presently available online.