Samsung's latest flagship is out in the market. Yes, you have guessed it right. We are talking about its new multitasking Wi-Fi tablet, the Samsung Galaxy Note 10.1. It is an altogether remarkable tablet and does not fall in line with the so called "yet another Android tablet syndrome". Samsung Galaxy Note 10.1 is an S-Pen Stylus enabled Tablet together with many distinctive features. This 10.1 inch Tablet from Samsung is really a fantastic product to use. Priced around $500, Galaxy Note 10.1 brings together high performance, innovativeness, style and fine looks.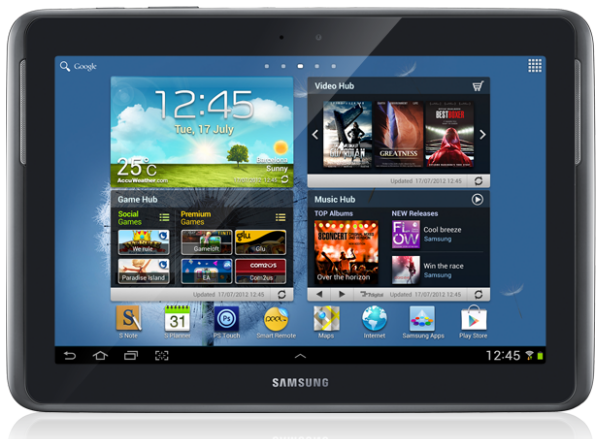 By far the most stand out feature of Samsung Galaxy Note 10.1 has been the introduction of its latest offering in the form of S Pen which has ushered a whole new dimension of creativity and functionality. The Galaxy Note 10.1 carries a 1.4 GHz quad-core Samsung Exynos processor together with an awesome system memory of 2GB. It is built on Android 4.0.4 Ice Cream Sandwich with TouchWiz UX UI. Samsung Galaxy Note 10.1 comes in two versions of 16GB and 32GB, expandable upto 64GB via MicroSD card.
Talking about its design, the Samsung Galaxy Note 10.1 has a distinctive high-end sleek look. It has a white or dark gray plastic back with matching bezel and silver plastics accents around the edges. Galaxy Note 10.1 measures 10.3 by 7.1 by 0.35 inches and weighs only 1.31 pounds making it one of the thinnest and lightest tablet on the market in its size class.
It has a 1.9 megapixel front-facing camera which has been centered above the display and has stereo speakers mounted on either side. At the tablet's top edge you would find the power button, the volume controller, MicroSD card slot, an infrared port and a headphone jack. A slot is also provided to carry the S-Pen.

Now something about its innovative S Pen Stylus. The Samsung Galaxy Note 10.1 S Pen is based on Wacom's pressure-sensitive technology. It offers a high sensitivity level of 1024 and has a detection distance improved to 14mm. The S Pen is a responsive device and comes with an integrated palm-rejection. The S Pen makes it easier to take notes, annotating files, for sketching diagrams and even noting down formulas.
Another great feature of Samsung Galaxy Note 10.1 is its ability for multitasking. You can do 2 things at the same time. You just have to use the "Multiscreen" button and open the internet browser or the S Note. With its multitasking feature in place, you don't have to stop a movie to make a note.
Samsung Galaxy Note 10.1 also comes with Adobe Photoshop Touch with which you can create dazzling multilayered images, add professional effects and share them through Facebook. Its other notable features include 5 MP camera, support for voice calls, 720p HD video recording, stereo Bluetooth v3.0 and has 7000 mAh Li-Po battery.
All-in-all Samsung Galaxy Note 10.1 is one of the best 10-inch tablet to have. Propelled by a powerful processor, S Pen Stylus, multitasking and other smart features makes it an excellent 10-inch tablet. Baring it's few shortcomings such as below par screen resolution, no full HD, no Android Jelly Bean, it can safely be picked as a preferred 10-inch tablet.