After the purchase of TweetDeck Twitter has released totally a new version of TweetDeck and now it do not run Adobe AIR. Now Twitter has build two program native to Windows and Mac.
Many things are changes in new TweetDeck from logo to installation. New TweetDeck just supports Twitter and Facebook accounts support for MySpace, LinkedIn, Foursquare, and Google Buzz have all been dropped.
There are many Twitter Clients available but TweetDeck is most popular Twitter client. After buying TweetDeck Twitter will try to improve this popular software and they are trying to give full flavor of Twitter to TweetDeck.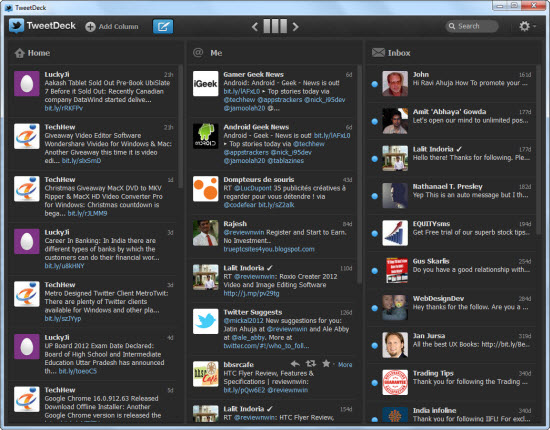 The basic functionality like multiple Twitter account support, live Tweets, customizable columns are same. Many front end styling like retweeting and direct messaging have been improved. Now there is a separate column for Facebook newsfeeds and Facebook notifications.
You can still login to your TweedDeck account and sync your multiple Twitter account. Old TweetDeck is still available for iOS and Android also as Chrome Web App. New TweetDeck is just updated for Windows and Mac.
New TweetDeck is with less clutter and clean layout much like Twitter itself. Now you will not find any Tweet box it is replaced with a button when you will press that button a popup will open with Tweet box and allow you to choose from which Twitter id you want to tweet, you can choose multiple ids to tweet.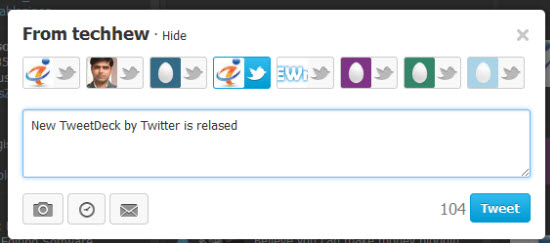 You will find a search box at the top which will show the search result in popup. Notification is still same but now you can set which columns will show notification popup or notification sound. You can now move notification popup anywhere on screen.
I liked new TweetDeck it is better than before much clear and easy to use. The biggest drawback is dropping support for MySpace, LinkedIn, Foursquare and Google Buzz etc.